Almost 85% ATMs recalibrated till November 30: Government
Almost 85 per cent cash dispensing machines have been recalibrated by November 30 to fit the new notes, Parliament was informed on Friday. "Till November 30, a total of 179,614 ATMs have been recalibrated. There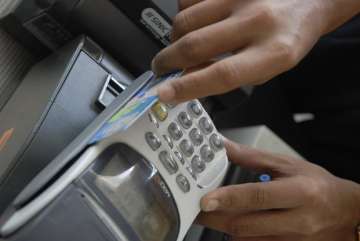 Source: PTI
India TV Business Desk
New Delhi
December 09, 2016 23:26 IST
Almost 85 per cent cash dispensing machines have been recalibrated by November 30 to fit the new notes, Parliament was informed on Friday.
"Till November 30, a total of 179,614 ATMs have been recalibrated. There are 211,594 ATMs of scheduled commercial banks and 14,324 white label ATMs in the country according to September 30 data," Minister of State for Finance Santosh Kumar Gangwar told the Lok Sabha in a written reply.
He said that the government has advised the banks to deploy micro-ATMs in the rural areas and as on December 2, a total of 1,14,036 micro-ATMs have been deployed.
He also said that scheduled commercial banks, excluding regional rural banks, do not need permission from the Reserve Bank of India (RBI) to set up ATMs at their branches and extension counters.

 

"Under some set of conditions the banks can set up ATMs at off-site locations as well," he said
(With inputs from IANS)