Around Rs 100 crore seized in new notes to be recirculated: report
The new currency notes seized by government agencies in multiple raids through out the country post demonetisation will be put back into circulation. According to a report in Times of India, the Enforcement Directorate has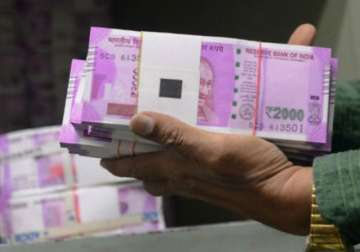 Source: PTI
India TV News Desk
New Delhi
December 20, 2016 11:34 IST
The new currency notes seized by government agencies in multiple raids throughout the country post demonetisation will be put back into circulation.
According to a report in Times of India, the Enforcement Directorate has issued a directive to zonal units to deposit new currency notes along with all other currency seizures into bank accounts opened by the agency in different cities so that new notes are immediately brought into circulation.
The agency had earlier issued a circular directing that seized currency notes be retained in strong rooms along with other seized material, ED director Karnal Singh told Times of India.
"We have been depositing these currency notes in our bank accounts so that they come into circulation and the general public is not inconvenienced," TOI quoted Singh as saying.
The government has also asked the I-T department to deposit seized currency notes in banks.
Earlier, agencies kept all seized material, including cash seizures, in their strong rooms as evidence till the case was adjudicated.
Around Rs 100 crores, mostly in Rs 2000 note, have been seized in multiple raids carrioed out by government agencies  across the country.
Post-demonetisation, the I-T department and the ED have made huge seizures of new currency notes. Just Tamil Nadu and Karnataka have accounted for seizure of more than Rs 60 crore in new currency notes. 
The ED on Monday seized Rs 47 lakh in new notes of Rs 2,000 from the owner of an educational institution in Punjab. On Saturday IT sleuths carried raid ata Chailwala's house in Gujarat and recovered 1.05 crores in new notes.
Rs. 30 lakh in cash and two and a half kilograms of gold were on Saturday seized from the premises of a prominent tailor in Chandigarh by the Enforcement Directorate.