Cash-hit LeEco lays off 85 pc India staff as sales dwindle, may exit country
founder Jia Yueting had written an email to employees saying the firm had burnt cash too quickly as it expanded into businesses ranging from smartphones to driverless cars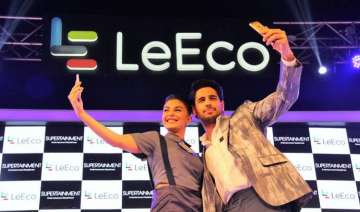 India TV Business Desk
New Delhi
March 03, 2017 14:21 IST
In signs that Chinese mobile company LeEco may be poised to exit the country, the company has fired around 85 per cent of its staff at its India unit and allowed two high-profile exits months after its chief signaled a cash crunch.
In November 2015, Chinese billionaire and company founder Jia Yueting had written an email to employees saying the firm had burnt cash too quickly as it expanded into businesses ranging from smartphones to driverless cars. Yueting had acknowledged its global expansion strategy went too far in the face of limited capital and resources and that it would cut costs and realise efficiencies.
Since the admission, the company has witnessed two high-profile exits in the form of Atul Jain, COO - smart electronics business, and Debashish Ghosh, COO - Internet applications, services and content, Economic Times reported citing industry sources.
LeEco India chief operating officer Alex Li told ET that the exit of the two senior executives was true, but denied any plans to exit the market or liquidate stock.
On the layoffs, he said the company has recalibrated and reimagined its business in India since last year and has taken steps to ensure that the scale of operations is in sync with resources.
Meanwhile, layoffs continue at the company's Delhi and Mumbai offices as well as at its research and development wing in Bengaluru.
Insiders say the layoffs signal a definite exit of the company from India, which has seen sales dwindling amid its massive ad spends of Rs 80 crore a month. The company had already opted out of offline sales in December last year.
With online sales having failed to find its feet in the market, the company is now limiting its focus to US and China. LeEco had entered India in February last year in partnership with Flipkart, offering attractive deals for smartphones and large-screen television sets.
The company had then said that it planned to generate profits through selling content for devices and was selling its products at no profit.