Centre likely to introduce car recycle policy for automakers next year
With millions of old vehicles moving unabated on Indian roads despite causing environmental problems, the Centre may soon make it mandatory for automakers to buy old and unroadworthy vehicles and recycle them. According to a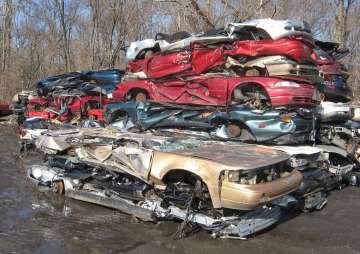 India TV Business Desk
New Delhi
December 19, 2016 15:41 IST
With millions of old vehicles moving unabated on Indian roads despite causing environmental problems, the Centre may soon make it mandatory for automakers to buy old and unroadworthy vehicles and recycle them.
According to a report in Hindustan Times, the move is aimed to rid Indian roads of old cars, trucks and buses that are a major source of pollution in the country, including the worst smog for decades that choked the capital in November.
India doesn't have a recycling policy for end-of-life cars, leaving an unorganised sector such as private scrapyards at Mayapuri in New Delhi to profit from selling parts and metal from dismantled vehicles.
Automakers will get enough time — between one and three years — to follow the new norms and set up dismantling and recycling centres across India.
The latest rule is under process and will take effect once it is notified by the Environment ministry next year. It will be on the lines of the recycling policy for electronic goods that fixes responsibility on the manufacturer, the daily reports.
India had 8.7 million end-of-life vehicles in 2015, and the number is expected to rise to 21.8 million by 2025, according to a Central Pollution Control Board (CPCB) estimate. Around 80% of them would be two-wheelers.