Chennai to Bengaluru in 30 mins: HTT in talks with govt to build Hyperloop in India
Elon Musk's ambitious Hyperloop transportation may soon begin leading trials in India, with the Hyperloop Transportation Technologies (HTT) initiating talks with the government. The final decision on a go-ahead for the project is left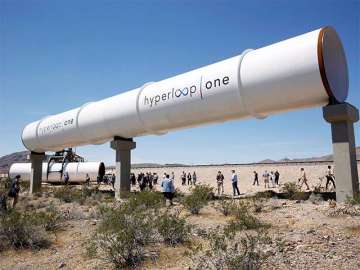 India TV Business Desk
Bengaluru
December 07, 2016 18:34 IST
Elon Musk's ambitious Hyperloop transportation may soon begin leading trials in India, with the Hyperloop Transportation Technologies (HTT) initiating talks with the government.
The final decision on a go-ahead for the project is left with Union Transport minister Nitin Gadkari, said Co-Founder Bibop G Gresta.
The Hyperloop will enable people being able to travel from Chennai to Bengaluru in 30 minutes — for a fraction of the cost of an airplane ticket.
"Gadkari has a proposal to build the Hyperloop on his table and he has to take a decision. If he wants to go ahead with it, we are ready, and it will be a feasibility study to begin with to lay line between Bombay (Mumbai) and Pune," he told PTI here on the sidelines of the Carnegie Global Technology Summit 2016 here.
Hyperloop runs faster than an aircraft at a speed of 1,120 kmph.
Asked about the regulatory challenges to build Hyperloop in India, Gresta said Gadkari, during the meeting, had expressed the Indian government's willingness to help the company in this regard.
"I had asked Gadkari to help us with regulatory norms. He (Gadkari) said we are willing to do that," he added.
Asked whether the company was looking for partners in India, Gresta said two local companies are working with Hyperloop.
"We already have two local companies in my team and we have 25 people working from India. They have several skills like programming and mechanical engineering," he said.
Asked about the size of investment to build the Hyperloop, Gresta said right now, the company is not asking for money, but land to get the project going.
"We are not asking money right now, but asking for a piece of land. The company has several options for raising money. One of them is to build the Hyperloop in Public-Private partnership. We also have private investors interested in implementing the project," he said.
"I think India is a perfect country to implement this project because the roads are not that good. Here the transportation is not capable to sustain a growth in a country like India," he said.
Among the prominent cities and countries where the Hyperloop will be built are California, Utah, Illinois, Florida, Indianapolis, Canada, Mexico, Chile, Spain, France, Slovakia, Abu Dhabi, Dubai, Saudi Arabia, Botswana, South Africa, Russia, China, Malaysia, India, Indonesia and Australia.
Gresta said the company has received an investment of over USD 100 million to build Hyperloop in these countries and cities around the globe.
"We have received over 100 million dollars to build Hyperloop in as many as 20 countries," he said.
Replying to a query, Gresta said the first Hyperloop is expected to be launched in Abu Dhabi.
(With inputs from PTI)