Expect all demonetised currency to come back to the system: Revenue Secretary
Contrary to reports anticipating a windfall gain for the government, Revenue Secretary Hasmukh Adhia has said that the government expects the entire scrapped currency notes of Rs 500 and Rs 1,000 to come back to the banking system, following which th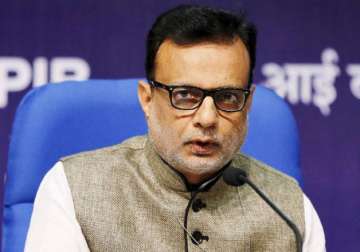 India TV Business Desk
New Delhi
December 07, 2016 16:39 IST
Contrary to reports anticipating a windfall gain for the government, Revenue Secretary Hasmukh Adhia has said that the government expects the entire scrapped currency notes of Rs 500 and Rs 1,000 to come back to the banking system, following which the tax authorities will trace transactions and tax black money hoarders.
According to an estimate, over Rs 12 lakh crore had been deposited into bank accounts till December 3. Soon after the November 8 decision to cancel Rs 500 and Rs 1,000 notes, some experts had projected that a part of the demonetised currency notes of a value of Rs 14.17 lakh crore at the end of March 2016 will not return to the banking system.
In a report, the State Bank of India, the country's largest public sector lender, had estimated that Rs 2.5 lakh crore may not return to the system. Based on such calculations, reports emerged that this will lead to substantial gains to the government considering that this will lower the liabilities of the Reserve Bank of India. 
Adhia further stressed that no black money hoarder will be spared, and asserted that it was wrong to assume that black money that has come into the banking system following the demonetisation will become white.
"Do you think that by simply depositing the money in a bank account makes black money into white? It doesn't. Merely, black money has come into banking channel, you can't tell that the entire black money has been converted into white. It will become white when we charge taxes, when the income tax department is able to reach to them and issue them a notice," Adhia said here on Tuesday.
Adhia further noted unless 50 per cent is paid on the unaccounted money which has come in to the banking system for the PM's Graib Kalyan Yojana, it will remain black money.
He said that the people who are depositing black money into Jan Dhan accounts of others will be caught and be dealt with according to the law.
When asked whether the government will ask for the source of money up to the permissible limit of Rs 2.50 lakh in every account, Adhia said that it will happen only in the cases where some misuse has taken place.
"In genuine cases, there will not be any scrutiny but if there is some misuse then an inquiry will be there. For instance, if somebody has deposited 2.5 lakh in 15 accounts then we will check with those 15 account holders and trace the money," he said.
Adhia said the government will also take strict action against those bank officials and income tax officials who are helping people in laundering.
He reiterated that the government has no plans to cap gold holding by an individual and also sealing of bank lockers.