Fake Indian currency worth Rs 43.83 cr seized in 2015, Rs 27.79 cr till September this year
Fake Indian Currency Notes (FICN) seized from various parts of the country amounted to Rs 43.83 crore in 2015, whereas such notes worth Rs 27.79 crore were recovered till September 2016, Lok Sabha was informed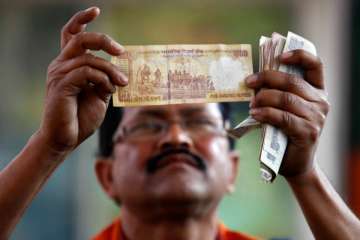 India TV Business Desk
New Delhi
December 06, 2016 17:26 IST
Fake Indian Currency Notes (FICN) seized from various parts of the country amounted to Rs 43.83 crore in 2015, whereas such notes worth Rs 27.79 crore were recovered till September 2016, Lok Sabha was informed today. 
Out of the total seized counterfeit notes in 2015, the highest worth Rs 9.65 crore were recovered in the national capital, followed by Rs 7.30 crore in Maharashtra, Minister of State for Home Kiren Rijiju said in reply to a question. 
FICN worth Rs 4.54 crore were recovered in Uttar Pradesh, while such notes worth Rs 3.84 crore and Rs 2.76 crore were seized in Gujarat and Karnataka, respectively in 2015. 
Fake currency worth Rs 2.59 crore was recovered in Tamil Nadu, those worth Rs 2.18 crore seized in Andhra Pradesh and counterfeit notes worth Rs 1.92 crore were recovered in West Bengal last year. 
Security agencies also recovered counterfeit notes worth Rs 27.79 crore in different parts of the country till September, 2016 of which FICN worth Rs 7.59 crore were seized in Delhi, those worth Rs 3.34 crore recovered in Maharashtra and FICN worth Rs 2.91 crore seized in Gujarat.