Fake notes worth Rs 9.6 crore deposited in banks post demonetisation, govt asks RBI to increase vigil
Alarmed over deposition of fake currency notes worth Rs 9.6 crore in banks post demonetisation, the central government has asked the Reserve Bank of India (RBI) to increase the vigil and set up a Special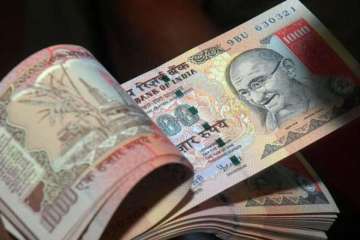 India TV Business Desk
New Delhi
December 03, 2016 17:52 IST
Alarmed over deposition of fake currency notes worth  Rs 9.6 crore in banks post demonetisation, the central government has asked the Reserve Bank of India (RBI) to increase the vigil and set up a Special Cell to monitor the receipt of fake notes.
The union government has also advised the RBI to inform such instances to the Economic Offences Wing of state Police.
The banks have received these fake notes of Rs 500 and Rs 1000 denominations in deposits and exchange after Prime Minister Narendra Modi announced the decision to scrap these high denomination notes with effect from the midnight of November 8.  
According to the  RBI data, Fake Indian Currency Notes (FICNs) detected in deposit and exchange of old bank notes from November 10, 2016 to November 27, 2016 are 53046 pieces for Rs 1000 denomination and 86621 pieces for Rs 500 denomination.
RBI inputs suggest that till November 27, 2016, old bank notes returned to the banking system amounted to Rs 8,44,982 crore and withdrawal by the public amounted to Rs 2,16,617 crore from their accounts either over the counters or through ATMs.
As on November 08, 2016, there were 17165 million pieces of Rs 500 denomination notes and 6858 million pieces of Rs 1000 denomination notes in circulation.
Total amount of currency which was circulated for public was Rs 2,50,565 crore.
Arrangements have been made keeping under consideration stock position, augmenting production of new series of banknotes, expediting supplies to all the currency chests, including air remittances from the press etc.
Government has advised RBI to set up a Special Cell to monitor the receipt of fake currency notes and inform such instances to the Economic Offences Wing of State Police, Intelligence/Enforcement agencies of the Central Government. 
The Law Enforcement Agencies have also been advised to maintain close vigil over possible movement of fake currencies and take prompt action as and when such cases are detected.
Government has also advised them to make adequate and effective arrangements to keep watch on illicit cash transactions and movement of valuables like high volumes of cash.
RPF and CISF have  also been  advised to make adequate preparation and keep special watch at airports, railway stations and in trains etc.