'Faulty' Pratt and Whitney engines reason for Kingfisher Airlines failure, tweets Mallya
Beleaguered loan defaulter and fugitive Vijay Mallya has now come up with a new assertion, alluding the reason behind the failure of Kingfisher Airlines business to faulty engines. In a tweet today, Mallya blamed "faulty"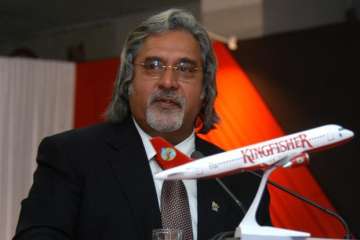 India TV Business Desk
New Delhi
March 03, 2017 15:46 IST
Beleaguered loan defaulter and fugitive Vijay Mallya has now come up with a new assertion, alluding the reason behind the failure of Kingfisher Airlines business to faulty engines.
In a tweet today, Mallya blamed "faulty" Pratt and Whitney engines for the collapse of his airline business.
We have sued IAE a Pratt & Whitney Group Company for compensation towards defective aircraft engines supplied to Kingfisher Airlines.

— Vijay Mallya (@TheVijayMallya) March 3, 2017
Mallya also claimed in his tweet that he has sued a company called IAE, a PW Group Company, for compensation towards "defective" aircraft engines supplied to Kingfisher Airlines.
Mallya's comment comes two days after it was revealed that DGCA, the India aviation regulator, is investigating Pratt & Whitney engines in A320 NEO planes.
Not surprised at DGCA enquiry into Pratt & Whitney aircraft engines. Kingfisher Airlines sadly collapsed also due to faulty engines.

— Vijay Mallya (@TheVijayMallya) March 3, 2017
The Director General of Civil Aviation on Tuesday ordered a detailed examination of the engines after planes installed with them continually developed snags like slow engine start-up times and erroneous engine software messages.
As of now, IndiGo has 129 A320s in its fleet which include 16 NEOs, while GoAir's 24 planes include 5 NEOs.
The DGCA expects to complete probing the engines of these 16 planes in next two weeks.
Days ago, Mallya has slammed the Indian media for "blasting him" rather than appreciating his expensive Formula 1 moves.
Reacting to the reports that Indian authorities were seeking his extradition, he said that 'New Delhi has no grounds to extradite him from Britain' and that he would not be leaving Britain.
Mallya even said that he had become a 'political football' between the two major Indian political parties as they campaigned in state elections. He was apparently referring to the BJP and Congress, which have been targeting each other during election rallies for helping Mallya flee.