Goods and Services Tax: Why textile traders are protesting against GST
Traders across the country are protesting against 5 per cent GST rate on textile.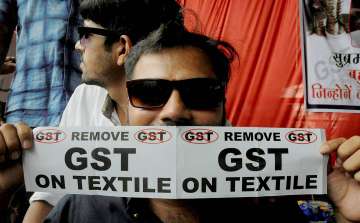 India TV Business Desk
New Delhi
June 28, 2017 23:04 IST
New Delhi: The Goods and Services Tax (GST) is being touted as the biggest tax reform in India since independence. A single tax will abolish the existing multinple taxes that differ from one state to another. Economists are predicting that the tax reform will change the way businesses are condcuted in India and will bring about only good things to the country. However, textile traders across the country are not convinced. From Jaipur to Erode, from Surat to Kolkata, textile traders are up in arms against the GST. They are not opposing the GST but the tax rate that is levied on the textile which they argue would ruin the industry. 
The GST Council has imposed a 5 per cent on textile. 
West Bengal
The three-day strike of textile traders in West Bengal was today extended by one day till June 30 against imposition of GST from July 1 after the all India traders body has called strike on that day.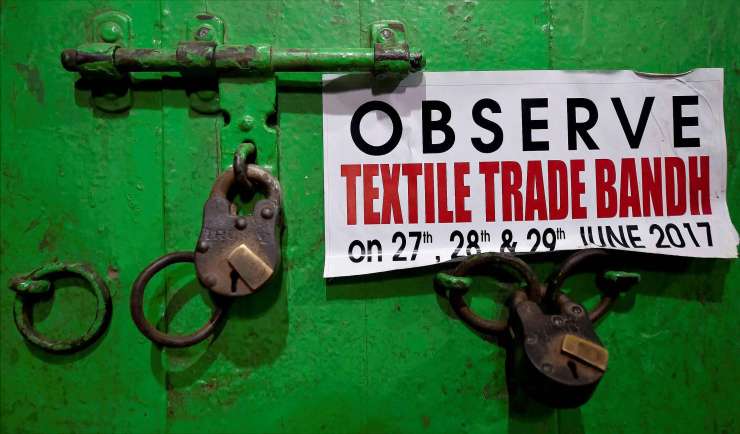 A closed shop at Burrabazar during a bandh against GST in Kolkata on Wednesday
"Our textile strike was supposed to be till June 29, but after the Bhartiya Udyog Vypar Mandal supported our cause and has called a nationwide trade bandh on June 30. Thus, we'll continue our strike till June 30," the Chamber of Textile Trade & Industry (COTTI) President Arun Bhuwalka told PTI. 
Some five lakh textile and garment shops across the state are closed, he said. 
Gujarat
Textile merchants of Gujarat shut their shops for the second day today as part of a three-day strike against five per cent GST even as Prime Minister Narendra Modi prepares to visit the state to inaugurate a textile event on June 30. 
Cloth markets in major Gujarat cities, including Surat, Ahmedabad, Bhavnagar and Rajkot, remained shut in protest against five per cent GST on textiles. The merchants will decide on extending the stir after GST Council's last meeting on June 30.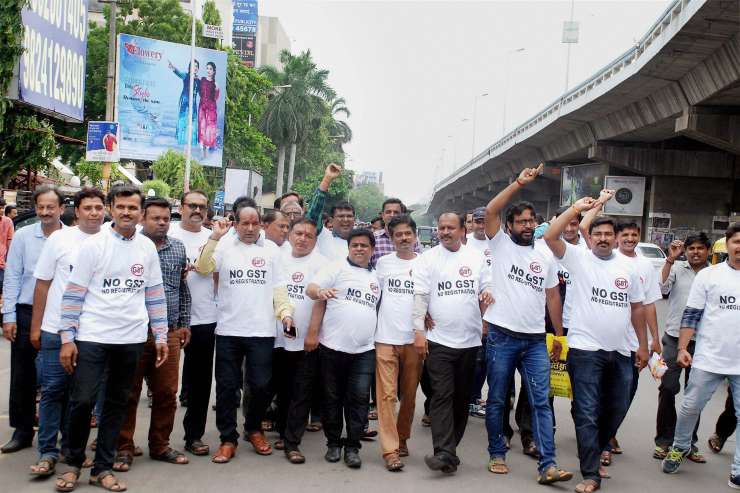 Textile traders protest against the GST during strike in Surat on Tue
"The three-day protest ends on June 29 before the GST Council meets for the last time on June 30. If the council does not decide on scrapping the five per cent GST on textiles, we will extend our protest," said GST Sangharsh Samiti president Champalal Bodhra. 
Incidentally, on June 30, the prime minister will inaugurate 'Textile India 2017'- a four-day mega fair - at Mahatma Mandir in Gandhinagar. The fair will attract around 1,500 exhibitors from the country and abroad. 
Tamil Nadu
Demanding exemption for textiles from the GST, Retail and wholesale shops and yarn merchants in Erode are on a three-day shut down. 
On the second day of the strike, called by the Erode Handloom Cloth Merchants Association, about 3,000 odd textile shops here remained closed. President of the association Ravichandran said the shtudown was total.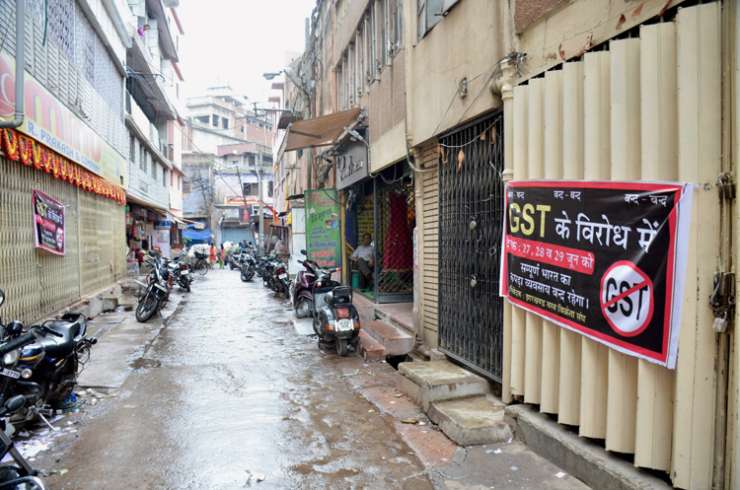 Closed shops during a protest by cloth merchants against GST in Ranchi
He said the association submitted to the District Collector a memorandum addressed to the Prime Minister seeking withdrawal of the five per cent GST proposed for textiles. If the GST was levied, textile trade would be affected heavily, he claimed. 
Erode is a major textile centre along with Tirupur and Coimbatore in western Tamil Nadu.
Rajasthan
Cloth merchants observed state-wide bandh in Rajasthan to protest against imposition of 5 per cent sales tax on textiles under the upcoming GST regime.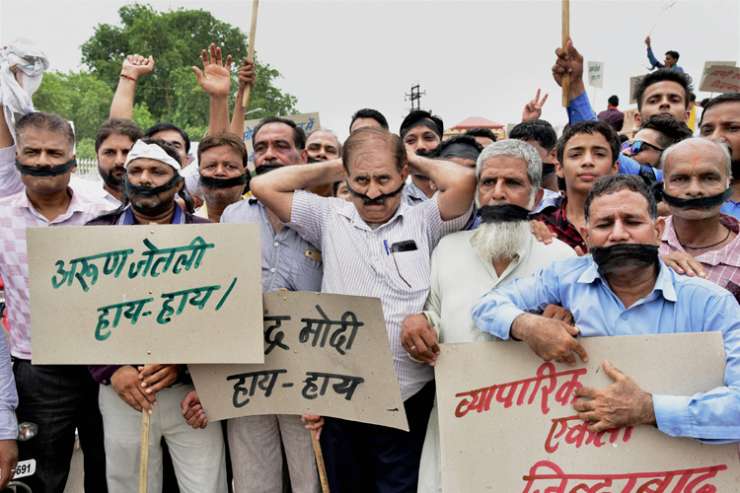 Textile traders protest against the GST in Bikaner on Wednesday
"The strike will continue till June 30 and future course of action will be decided after GST Council meeting, which is scheduled on June 30," Federation of Rajasthan Trade and Industry President Suresh Agarwal told PTI yesterday.  
"The bandh was successful in Rajasthan against the Centre?s decision to levy 5 per cent GST on textile. Due to the bandh, the business was affected,? Om Prakash Taneja, president of the Cloth and Saree Traders Association said.
"We oppose the government's move. Textiles should be exempted from GST," he said.