Government to announce awards for digital payments from today, mega draw of Rs 1 crore on April 14
Central government will launch awards under the Lucky Grahak Yojana and Digi-Dhan Vyapar Yojana-- twin schemes incentivising digital payments-- in 100 cities over 100 days from today.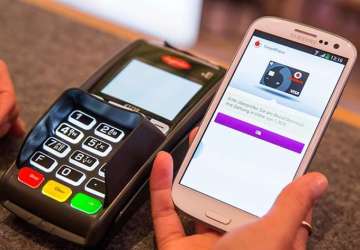 India TV Business Desk
New Delhi
December 25, 2016 6:46 IST
Moving towards its dream for less cash and digital society post the demonetisation move announced by Prime Minister Narendra Modi on November 8, the central government will launch awards under the Lucky Grahak Yojana and Digi-Dhan Vyapar Yojana-- twin schemes incentivising digital payments-- in 100 cities over 100 days from today, the NITI Aayog said on Saturday.
"The first draw of the Lucky Grahak Yojana to provide a cashback of Rs 1,000 to 15,000 consumers every day for the next 100 days will be launched on Sunday in New Delhi by Union Finance Minister Arun Jaitley and Information Technology Minister Ravi Shankar Prasad. 
"To create awareness in different parts of the country, the event would be followed in 100 different cities across India over the next 100 days until March," the Aayog said in a statement. 
Winners will be selected on a daily and weekly basis under the Lucky Grahak Yojana and weekly basis under the Digi-Dhan Vyapar Yojana respectively, leading up to a mega draw on April 14, 2017, where after the scheme shall be reviewed for further implementation, it said. 
The twin schemes aimed at giving a fillip to digital payment, were launched by the NITI Aayog that has been tasked to undertake a comprehensive campaign on advocacy, awareness and co-ordinate handholding efforts among general public, micro enterprises and other stakeholders for digital payments. 
Discounts will now be given for payments made on a digital platform at petrol stations, for insurance premium, tolls at national highways and for railway tickets. To reduce transaction costs of digital payments, several fees and charges being levied so far by banks and on various government portals have either been reduced or done away with, it said. 
A Scheme has also been launched to improve supply of cards and POS machines in rural areas.
Digidhan Melas, where all stakeholders of digital payment ecosystem exhibit and provide actual hand holding to general public in adopting digital payments have also been held to popularise the digital payments amongst the general public, added the Aayog.
Earlier on December 15, the NITI Ayog announced daily, weekly and mega awards up to Rs 1 crore for consumers and merchants who take to digital payments.
 "We are launching 'Lucky Grahak Yojna' for consumers and 'Digi Dhan Vyapari Yojna' to encourage merchants to transition to digital payments," Amitabh Kant had said.
The awards will be offered through two schemes - the Lucky Grahak Yohajana for consumers, and the Digi-dhan Vyapari Yojana for merchants.
"Under the Lucky Grahak Yojana, 15,000 winners will get Rs 1000 each every day starting on December 25 and ending on April 14 next year," Amitabh Kant announced.
"In addition, there will be weekly awards for 7000 people, and the maximum prize is worth Rs 1 lakh," he added.
"Under the Digi Dhan Vyapari Yojna, 7000 winning merchants will receive prizes worth up to Rs 50,000 every week, also within the same time frame," NITI ayog CEO said, adding that on April 14, there would be mega awards worth Rs 1 crore, Rs 50 lakh and Rs 25 lakh, respectively, for consumers and Rs 50 Lakh, Rs 25 lakh and Rs 5 lakh for merchants.
All modes of digital payments - USSD, AEPS, UPI and RuPay Cards - will be eligible under the scheme. For merchants, transactions made on the POS machines installed at their locations would be considered.
 
Both schemes will cover small transactions between Rs.50 and Rs.3000 to encourage every section of the society to move to digital payments.
On December 8, Finance Minister Arun Jaitley announced a raft of measures including discounts on online payments for insurance policies, rail tickets and highway toll charges as the government looked to promote digital cash post demonetisation.