Chennai: I-T department busts 'syndicate' involved in currency conversion; Rs 90 cr cash, 100 kg gold seized
In raids carried out at eight locations across Chennai, Income Tax officials recovered Rs. 90 crore in cash and 100 kg gold from jewellers on Thursday.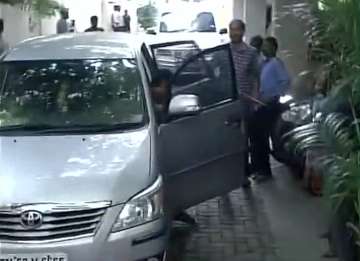 Source: ANI
India TV Business Desk
New Delhi
December 08, 2016 21:46 IST
Income Tax officials today recovered Rs. 90 crore in cash and 100 kg gold in raids carried out at eight locations across Chennai to check instances of tax evasion post demonetisation. 
ANI reported that Rs 70 crore of seized cash was in the form of new notes. 
Of the 100 kg gold recovered, 70 kg was in form of gold bars which were seized from a hotel room, he said. They are worth nearly Rs 30 crore. 
Officials said the department has called in for additional staff, auditors, counting machines and banking personnel to ascertain the final figures of the recovered assets and formalise the seizure process under tax laws.
They said a number of documents related to financial transactions, entries of gold sale and records of sale/purchase are being scrutinised by the tax sleuths.
They added at least three people of an alleged "syndicate" involved in currency conversion are being questioned by the taxmen who are still in operations. 
Businessmen Sekar Reddy, Srinivasa Reddy and Prem were being questioned by the I-T officials, news agency ANI reported. 
After monitoring for months select persons suspected to be evading tax through shadowy transactions and based on a specific tip-off, the searches began today, a senior tax official said. 
"The searches are continuing. So far Rs 90 crore cash has been seized, which is a mix of demonetised and new currencies. Also, 100 kg gold worth crores of rupees has been seized," the official who did not wish to be named told PTI. 
Asked about the source of the money and whether any hawala or similar banned transactions were involved, he said these were "shadowy transfers". 
More information, leading to conclusive inference, would be known in the course of investigation, he said.
Raids and surveys have been going on against jewellers across the country after Prime Minister Narendra Modi announced the decision to demonetise Rs 500 and Rs 1000 notes on November 8.
Till December 6, cash and jewellery worth Rs. 130 crore had been seized and about Rs. 2,000 crore of undisclosed wealth admitted by the taxpayers, the department said.
The department also said that it conducted "swift" investigations in more than 400 cases after November 8. More than 30 cases were referred to the Enforcement Directorate and the Central Bureau of Investigation for further investigations.
The tax department had made the largest seizure of Rs 5.7 crore cash in new notes in Bengaluru few days back after which two other central probe agencies, the CBI and the Enforcement Directorate, had taken over the cases to probe instances of corruption, money laundering and large-scale hawala transactions in the wake of the currency scrap on November 8.