In push for cleaner energy, India eyes three more LNG terminals on east coast
In a bid to step up consumption of the cleaner-burning fuel, India is likely to build three more liquefied natural gas (LNG) terminals on its east coast. Speaking at the Petrotech energy conference in the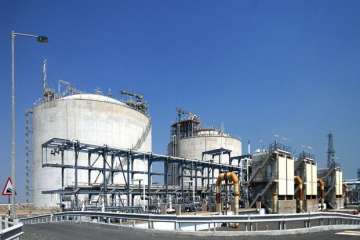 India TV Business Desk
New Delhi
December 06, 2016 14:13 IST
In a bid to step up consumption of the cleaner-burning fuel, India is likely to build three more liquefied natural gas (LNG) terminals on its east coast.
Speaking at the Petrotech energy conference in the capital,  AP Sawhney, chairman and managing director PSU explorer Oil India, said the three new terminals will be located at Ennore, Kakinada and Dhamra ports on the east coast.
The country was also looking at reviving stranded gas-based power generation capacity, Sawhney added.
According to the Paris Agreement to undertake intended nationally determined contributions' (INDCs), India had committed to reduce its carbon emissions by 33-35 per cent by 2030.
Shifting to these many LNG vehicles can help India meet at least 2.5 per cent of this commitment, experts say.
India's target is to raise the use of gas in its energy mix to 15 per cent in three to four years from 6.5 per cent now, to curb emissions and cut its dependence on imported oil. 
India is planning to increase its LNG import from 21.3 million tonne per annum (MTPA) to about 50 MTPA by 2022.