India's billionaire club: Patanjali's Balakrishna leads pack of 27 new entrants, 11 lose status post notes ban
Reliance Industries chairman Mukesh Ambani retains his position as the richest Indian with an estimated wealth of Rs 1.7L cr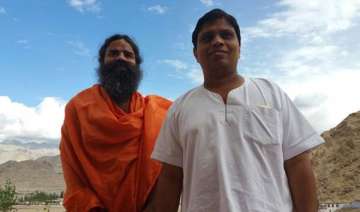 Source: PTI
India TV Business Desk
New Delhi
March 08, 2017 12:45 IST
​Acharya Balakrishna of Patanjali Ayurved is on top of the list of 27 new entrants to the elite club of billionaires in India, a new report on India's elite has said. With a wealth of $3.6 billion (around Rs 24,000 crore), Balakrishna is among the few who have seen their wealth grow despite the onslaught of demonetization,  the Hurun Global Rich — Indian billionaires report has said.
Balakrishna is joined by Nadir B Godrej and Smitha V Crishna. Patym founder Vijay Shekhar Sharma also lands on the list with $1.5 billion (around Rs 9,995 crore), though his wealth is likely to be revised upwards with Reliance Capital selling its nearly one per cent stake to Alibaba at $41 million.
Reliance Industries chairman Mukesh Ambani retains his position as the richest Indian. With an estimated wealth of $26 billion (Rs 1.73 lakh crore), Ambani ranks 28 on Hurun's Global Rich list, the only Indian in the top 50. 
He is followed by Sun Pharma head Dilip Shanghvi who ranks third on the list of Indians, with $14 billion (Rs 93,000 crore) and is ranked at 74th on Hurun's global list of billionaires.
With a wealth of $1.2 billion (Rs 8,000 crore), 35-year-old Divyank Turakhia is the youngest billionaire on the list. Turakhia sold his company Media.net to a Chinese conglomerate at a valuation of $1 billion. The report further states that the cumulative wealth of 132 Indian or Indian-origin billionaires is estimated to have increased to $392 billion (Rs 26 lakh crore), up 16 per cent from last year.
The list, while recognising the growth of the newcomers, also sheds light on those who saw their wealth diminish. Hit by successive markdowns in valuation, Flipkart founders Sachin and Binny Bansal are out of the list of India's billionaires. Having shot to the list last year, the Bansals are among the 31 Indians who lost their place in the billionaire list this year.
Demonetisation has also had an impact on India's richest, with 11 of the thirty one having lost their billionaire status since the government's drastic notes ban decision on November 8. Prominent among them are Gautam Thapar of Crompton Greaves, Nilima Motaparti of Divi's Labs, Prathap C Reddy & family of Apollo Hospitals, and Nandan Nilekani, an Infosys shareholder.
Others who appear to have taken a hit post demonetization include Salil Singhal & family of PI Industries, Chirayu R Amin & family of Alembic Pharma, B L Taparia & family of Supreme Industries, Habil Khorakiwala of Wockhardt, Prakash Chauhan & family of Parle Agro Food, Prithviraj Kothari of RiddiSiddhi Bullions, and Devendra Kumar Jain of Gujarat Fluorochemicals
This list is exclusively based on the share price performance of companies after demonetisation.
The pharmaceuticals sector leads the rich list with 21 billionaires, followed by manufacturing, technology, media and telecommunications (TMT) with 13 each. But the average wealth of billionaires in the pharmaceutical sector is lower at $3.1 billion, compared to $4.6 billion of those from the TMT sector.
Only nine individuals on the list are from the real estate sector, reflecting its sagging fortunes. Jitendra Virwani of Embassy Property Development is the new billionaire entrant to the list, with wealth of $1.29 billion.
Mumbai is home to the highest number of billionaires, 42, followed by Delhi at 21. Ahmedabad bagged third place with nine, while Bengaluru lost eight.
With five billionaires, the Godrej Group contributes the highest number of billionaires, followed by Hero Honda and Asian Paints with three each.