Mahesh Shah, who declared Rs13,860 crore under IDS, had three shell companies with family members as directors
Mahesh Shah had opened three shell companies with his family members as their directors.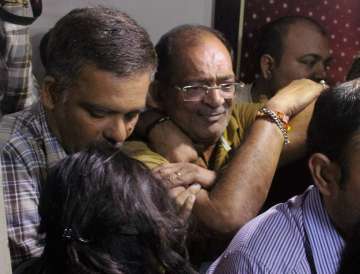 Source: PTI
India TV Business Desk
New Delhi
December 06, 2016 0:12 IST
Mahesh Shah, the Ahmedabad-based businessman who had declared a stunning Rs13,860 crore of unaccounted money under the Income Declaration Scheme (IDS) but failed to deposit the tax and penalty, had opened three shell companies with his family members as their directors. 
I-T officials have discovered documents related to three shell companies in the raids carried out at Shah's residence in Ahmedabad, his relative's houses and the office and residence of the chartered accountancy firm that had made the IDS declaration on his behalf.
Two of these companies have not filed returns before the Registrar of Companies. 
The first company, Anmol Land Organisers Pvt Ltd, was formed in 2008 and has three directors - Mahesh Shah himself, his son Monitesh Shah and his friend Dushyant Patel. The company is registered at the address of Patel's resident.  
The second company, Padmshree Infracon Pvt Ltd, was started in the year 2015 and has two directors - Mahesh Shah's wife Vinita Ben Shah and his daughter Prakriti Anjani Das. This company is registered at the address of Shah's resident. 
The third company, Kwikteam Support Services Pvt Ltd, was formed in 2012 and shows Shah's daughter Prakriti Das and her husband Anjani Kumar Das as its directors. The company has listed the address of a business centre as its registered address. 
The return filing of this company is currently underway. 
Shah had claimed that the Rs 13,860 crore he declared under Income Disclosure Scheme was not his and was he used as a front by some businessmen and politicians to declare their money. 
"The amount of Rs 13,860 crore that I declared under IDS was not mine, I will tell the names of those behind it before Income Tax officials," Shah told a regional TV channel adding that he "made the declaration out of compulsion and to earn commission."
Income Tax searches were conducted on the office and residential premises of Shah on November 29, 30 and December 1 after he failed to pay first installment of tax -- Rs 1,560 crore -- on the whopping declaration of Rs 13,860 crore under the IDS.  
He was detained by I-T officials on Saturday after he appeared at the ETV studio in Ahmedabad. He was questioned for hours but was released later. 
The Income Tax Department yesterday said that it has rejected the declaration made by Shah under IDS and has commenced enquiries against him to determine the intention behind the false declaration.
PC Modi, Director General of Gujarat IT Dept, today said that Shah has not provided "any worthwhile information" despite opportunities given to him.
"He has sought more time from the dept on the ground of his wife's illness; so far nothing has come out and we are still waiting," he said.