No queries if scrapped notes deposited in one go, clarifies Jaitley as RBI tightens cash deposit rules
Following RBI's latest announcement to tighten rules for depositing scrapped Rs 500 and 1,000 notes, Finance Minister Arun Jaitley has said that no questions will be asked if any amount of junked currency is deposited in one go but repeated deposits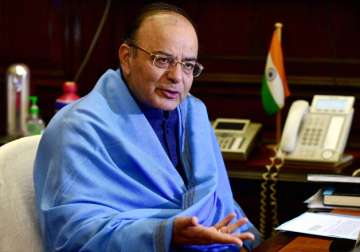 India TV Business Desk
New Delhi
December 20, 2016 10:31 IST
Following RBI's latest announcement to tighten rules for depositing scrapped Rs 500 and 1,000 notes, Finance Minister Arun Jaitley has said that no questions will be asked if any amount of junked currency is deposited in one go but repeated deposits may raise queries.
Explaining the rationale behind the move, Jaitley on Monday night said, "If they go and deposit with bank any amount of currency no questions are going to be asked to them and therefore the 5,000-rupee limit does not apply to them if they go and deposit it once."
"But if they are going to go everyday and deposit some currency, same person, that gives rise to suspicion that where is he acquiring this currency from. In that event a person may have something to worry about. Therefore everyone is advised whatever old currency you have please go and deposit it now," he added.
With nearly Rs 13 lakh crore out of the Rs 15.4 lakh crore worth of 500 and 1,000-rupee junked already deposited in banks, the RBI has changed rules to mandate that individuals can deposit over Rs 5,000 in old currency bills only once until December 30 and that too after explaining why it had not been done so far.
The Finance Minister said that since all exemptions to certain sectors and utilities, which had been allowed to accept the banned currency post demonetisation, ended last week, those in possession of the old notes are supposed to deposit them with banks.
"Anyone who has old currency notes is not allowed to trade in them. He can only go and deposit them with banks," he said.
According to the RBI's notification, when a person deposits over Rs 5,000 in withdrawn currencies, then credit shall be given to that person's account only after questioning him or her, in the presence of two bank officials, as to why the notes were not deposited earlier. The bankers will keep the explanatory statement on record for future audit trail.
Deposits of Rs 500 and Rs 1,000 notes up to Rs 5,000 in value received across the counter will be allowed to be credited to bank accounts in the normal course until December 30. But if the deposits are less than Rs 5,000 at a time but cumulatively the value exceeds Rs 5,000, then the bank officials have to follow the procedure of getting on record the explanation from the depositor why the deposit was not made earlier.
These restrictions do not apply to deposits under the Taxation and Investment Regime for the Pradhan Mantri Garib Kalyan Yojana.
The government demonetised the high value currency notes on November 8, in a move to combat the problems of black money, counterfeit currency and terror financing.
With IANS Inputs