Not a welcome move, says Arundhati Bhattacharya as RBI keeps repo rate unchanged
In a bold move, RBI Governor Urjit Patel today kept short term lending rate unchanged at 6.25 percent, disappointing many bankers across the country with SBI saying that status quo on rates was 'not a welcome move as the market was expecting a 25 bas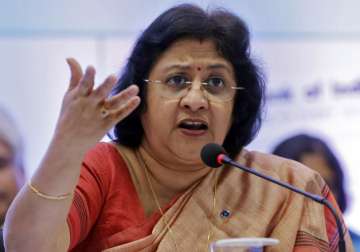 India TV Business Desk
Mumbai
December 07, 2016 18:35 IST
In a bold move, RBI Governor Urjit Patel today kept short term lending rate unchanged at 6.25 percent, disappointing many bankers across the country with SBI saying that status quo on rates was 'not a welcome move as the market was expecting a 25 basis point cut'.
"We expected at least a 25 basis point cut," SBI chairman Arundhati Bhattacharya said as she called it a 'non-event'.
She, however, welcomed the decision to withdraw incremental increase in CRR from December 10.
"The rate cut might have helped market sentiment. But we are relieved that additional CRR is now taken away. We believe that ample liquidity will drive rates down and there may be lowering of rates in future," she said.
Economic Affairs Secretary Shaktikanta Das too reflected similar sentiment but said that the money coming back into the banking system will enable banks to give loans at lower interest rates. The comment is in line with the central bank which sought to shift the onus of cutting interest rates for home and auto loans on to the banks.
"Domestic savings lying idle at home have come into banking system. This will enable our banks to offer loans at lower interest rates," Das said.
Das further said that the central bank took the decision based on their understanding of the trends in inflation. 
He said that although the RBI had predicted a GDP growth rate of about 7.1 per cent, it would be a bit early for the Finance Ministry to rush to numbers but it does counter negative outlook on the GDP. 
Earlier today, the RBI took the markets by surprise by keeping the repo rate unchanged at 6.25 per cent. There were widespread expectations of at least 25 basis point cut in the policy rate to cushion the impact of demonetisation.