RBI to issue new Rs 100 notes; old notes to continue as legal tender
The Reserve Bank of India on Tuesday announced that it will shortly issue new notes of Rs 100 denomination in the Mahatma Gandhi series 2005 which will be without the inset letter in both the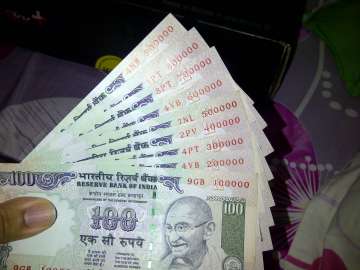 India TV Business Desk
New Delhi
December 06, 2016 19:07 IST
The Reserve Bank of India on Tuesday announced that it will shortly issue new notes of Rs 100 denomination in the Mahatma Gandhi series 2005 which will be without the inset letter in both the numbering panels. 
However, the RBI has said that the old Rs 100 note will continue as legal tender. 
The new notes will be without the inset letter in both the numbering panels and the year of printing '2016' will be printed on the reverse of the banknote, RBI said in a release.
Notedly, RBI had issued a statement last week saying that it will launch Rs 20 and Rs 50 notes soon and the old notes of this denomination will continue to circulate in the market.
"The design of these banknotes to be issued now is similar in all respects to the Rs 100 banknotes in Mahatma Gandhi Series- 2005 issued earlier having ascending size of numerals in the number panels, bleed lines, and enlarged identification mark, on the obverse," it added.
"All the banknotes in the denomination of Rs 100 issued by the Bank in the past will continue to be legal tender," RBI said.
In a surprise move, Prime Minister Narendra Modi on November 8 announced that Rs 500 and Rs 1000 notes will be no more be a legal tender sending flutters down in the country.
Since then RBI has made several announcements in light of muliple challenges that sprung up as a result of demonetisation. It has also announced to bring the new new Rs 1000 note, however, the plan was later stalled for the time being.