These three Kerala companies account for 47 per cent of India's gold reserves
The gold holdings of the three largest gold loan companies in Kerala have grown from 195 tonnes two years ago to nearly 263 tonnes towards the end of September 2016. India's top three gold loan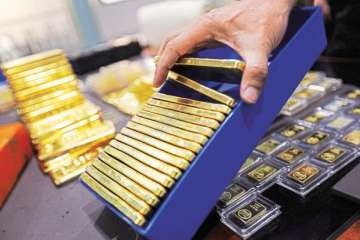 Source: PTI
India TV Business Desk
Thiruvananthapuram
December 27, 2016 12:00 IST
India's top three gold loan companies have witnessed around 35 per cent spike in its holding of yellow metal in last two years.
According to a report in Times of India, the gold holdings of Muthoot Finance, Manappuram Finance and Muthoot Fincorp has surged to nearly 263 tonnes this Septemeber from 195 tonnes two years ago.
After this, these three firms share around 47 per cent of India's total gold reserves i.e. 558 tonnes, which is 11th largest in the world, according to World Gold Council.
The US heads the pack with 8,134 tonnes, while Germany and IMF come next (3,378 and 2,814 tonnes, respectively).
Notedly, India accounts for approximately 30 per cent of the global demand for gold, a true and tested source of insurance for millions of families that have little access to other forms of social security.
The gold holdings of Muthoot Finance, country's largest gold loan firm, grew from 116 tonnes to 150 tonnes over a period of two years.
This is more than the reserves of Singapore (127.4 tonnes), Sweden (125.7 tonnes), Australia (79.9 tonnes), Kuwait (79 tonnes), Denmark (66.5 tonnes) and Finland (49.1 tonnes).
There are other two big players — Manappuram Finance with 65.9 tonnes and Muthoot Fincorp with 46.88 tonnes.
These are NBFCs where one can get loan upto 75 per cent of the value of the gold. Non-Banking Finance Companies (NBFC) said that their gold loan business was down by 65-70 per cent in the first week of demonetization. After that the business picked up as they have started using alternative channels like NEFT, RTGS, IMPS, cheque and swiping machines to overcome the crisis.
According to GFMS Gold Survey, India tops the list of countries consuming gold jewellery, with a consumption of 107.6 tonnes during Q3 of calendar year 2016.