Unboxing Lenovo Phab 2 Plus
With big screen phones growing in popularity for incredible movie and gaming experience, gadgets like the Lenovo Phab 2 Plus obscure the lines between tablets and cell phones. We felt that the phone has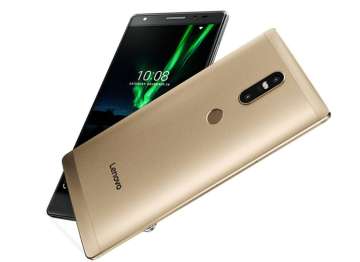 India TV Tech Desk
New Delhi
December 16, 2016 21:54 IST
With big screen phones growing in popularity for incredible movie and gaming experience, gadgets like the Lenovo Phab 2 Plus obscure the lines between tablets and cell phones. 
We felt that the phone has great potential to survive in the market, especially when users prefer to use more data watching videos and playing games on their phones. It is here that a phone with an extensive screen makes it all the more enjoyable. 
This year, we have the Phab 2 Plus, which was declared as a major aspect of a trio including the Phab 2 and Phab 2 Pro. 
The Plus variation is the just a single to make it to India as such, and it serves as a successor to the current Phab Plus. 
With more manageable dimensions this time around, the highlight feature here appears to be a dual-camera setup.
Specifications
The Phab 2 Plus is built incredibly well with bunches of metal all around and Corning Gorilla glass for display.
The rounded back offers a comfortable bend when someone holds it.
Under the hood, the Phab 2 Plus sport an octa-core Media Tek processor, 3GB of RAM and 32 GB of storage.
This SoC (system-on-a-chip) isn't very powerful and is certainly behind some of the comparable alternatives from Qualcomm.
Thankfully, UI performance is still good since the phone ships with a near-stock version of Android Marshmallow. 
A portion of the additional features incorporate Smart Shortcut which gives you a skimming menu for system functions and even shortcuts to apps of your choice.
However, the phone is enormous, and at 218 grams it is quite heavy too.
The phone supports 4G VoLTE but its SIM tray is of the hybrid variety, so you can either have two SIMs or a microSD card in the second slot.
Display
The 6.4-inch display has a decently high resolution and gets pretty bright colours even outdoors.
The large display is perfect for catching up on your favourite media, wherever you are.
Touch response is accurate and viewing angles are nice and wide.
Camera
The Lenovo Phab 2 Plus features two 13-megapixel camera sensors, laser auto-focus (AF), and phase-detection auto-focus (PDAF). 
The phone accompanies the double camera set up at the back. There is an additionally enlarged reality mode worked into the camera application that lets you add AR impacts to your pictures. 
The best quality of built-in camera is that the Phab 2 Plus measures depth with the second sensor that permits you to manipulate focus points in an image after you capture them.
The front camera is good for selfies, though only under good natural lighting. 
The device additionally underpins HDR video recording which looks great on a HDR-proficient display.
Audio/Video
The Phab 2 Plus handles up to 1080p video with ease, and audio is very good, thanks to Dolby Atmos support.
Despite the fact that there's only one loudspeaker, it does a good job. 
The three microphones let you record in Dolby 5.1 when shooting a video.
Along with these features, the buyer also gets bundled JBL earphones which is an added plus.
Battery 
The battery life is just average. Even with light usage, we found ourselves barely making it through a full day on one charge.
Verdict
Talking about its alternative in the market, the Phab 2 Plus could be a decent substitute to Xiaomi's Mi Max. At Rs 14,999, people can do much better by buying Lenovo's own Moto G4 Plus which offers a much better value.