We are rooting for less cash, not no cash: Arun Jaitley explains PM Modi's 'cashless' bid
Cornering all criticism for turning India into a 'cashless economy', Union Finance Minister Arun Jaitley today explained that the term means use of less cash and not no cash. "Our bid to go cashless means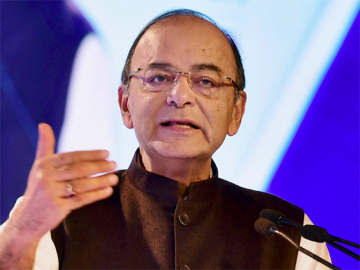 India TV Business Desk
New Delhi
December 25, 2016 21:29 IST
Cornering all criticism for turning India into a 'cashless economy', Union Finance Minister Arun Jaitley today explained that the term means use of less cash and not no cash.
"Our bid to go cashless means less cash, not no cash. Now, the money has come into the banking system and the anonymity of cash has vanished," Jaitley said at Jan-Dhan Mela in New Delhi, which was organised to promote digital transactions.
Counting the benefits of digital transactions Jaitley said that this trend will eliminate the problem of fake currency notes as well as terror funding.
"From counterfeit currency to terrorism, everything is a result of heavy dependence on cash economy," he said.
He also hit back at the opposition parties for criticizing PM Narendra Modi's cashless bid in unison. "Common people have understood the gains of cashless or digital economy, but opposition is taking more time to understand."
The Finance Minister also stressed upon the importance of newly-introduced Aadhaar-based payment system. "This will benefit those who don't have cards or mobile phones as they will only need thumb print for transactions," he said.
Claiming that the lucky-draw scheme will go a long way in promoting digital payments, Jaitley said, "Such schemes were very popular and successful in South Korea. I can assure with such initiatives we will have a better nation, a better and cleaner economy in future.