17 Billion Cigarettes Smuggled Into India Annually
New Delhi, Jan 15: High excise duty on cigarettes in India has resulted in the growth of contraband trade of the product with the total market estimated to reach Rs 1,900 crore this year, up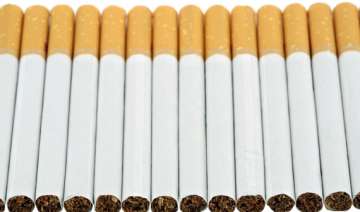 PTI
January 15, 2012 19:12 IST
New Delhi, Jan 15: High excise duty on cigarettes in India has resulted in the growth of contraband trade of the product with the total market estimated to reach Rs 1,900 crore this year, up nearly 12 per cent from the previous year, according to industry estimates.

In 2010-11, the size of contraband cigarettes market in India was around Rs 1,700 crore.

According to industry players, 17 billion cigarette sticks are smuggled into the country every year, making India the sixth highest consumer of smuggled cigarettes in the world.

Experts cited the huge price differential in India and neighbouring countries as one of the primary reasons for the increase in smuggling of cigarette in India.

Low cost cigarettes make their way to India from countries like China, Myanmar, Nepal, Bangladesh, Indonesia and Pakistan, they said.

"Smuggled and contraband cigarettes are becoming a bigger and bigger problem in India. There are lot of illegal cigarettes, which are smuggled from outside India and even counterfeit products are also sold in huge quantity," an official working with a cigarettes company said.

The government needs to take serious action to control the illegal trade, he added.

The smuggled cigarettes of 80 mm size could still be cheaper than an authentic regular sized 70 mm filter cigarette in India. "This is a direct threat to the filter segment which constitutes 69 per cent of the total Indian cigarette market," the official said.

When asked about the factors behind the increase in illegal trade of the product, he said, "Extreme high excise duty and VAT rate on cigarettes in India make smuggling a particularly attractive proportion."

Citing an example, he said the total tax on a legitimate Rs 100 pack is as high as Rs 68, but as contraband cigarettes do not pay any of those taxes, they are priced at up to Rs 80 and still allow a high margin.

According to the industry estimates, 60 million sticks are smuggled every month in Mumbai followed by 35 million sticks in Delhi and 20 million sticks per month in Pune, Bangalore and Hyderabad.