Anand Sharma To Visit Pak On Feb 13
Karachi, Jan 29:  Commerce Minister Anand Sharma will be visiting Pakistan on Feburary 13 to discuss India-Pak trade, Dawn reported.Tariq Puri, chief executive of Trade Development Authority of Pakistan said he hoped the process of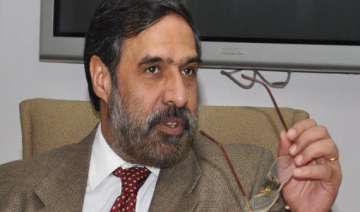 PTI
January 29, 2012 13:35 IST
Karachi, Jan 29:  Commerce Minister Anand Sharma will be visiting Pakistan on Feburary 13 to discuss India-Pak trade, Dawn reported.

Tariq Puri, chief executive of Trade Development Authority of Pakistan said he hoped the process of normalisation of trade relations between  both countries will move forward with this visit.

After a meeting of Pakistani exporters with a team of Indian trade regulators on non-tariff barriers (NTBs) at the authority's head office here on Friday, Puri said, Ministry of Commerce and TDAP had prepared a roadmap on NTBs and the Indian government had sent the regulators in order to satisfy Pakistani exporters about different trade regimes, particularly NTBs, which irritated Pakistanis the most.

He said the roadmap had been prepared after extensive interactive sessions with all stakeholders for identification of NTBs.

Puri said, there were no Pakistan specific NTBs on Indian side still they held talks with Pakistani exporters and assured them of mechanised system and transparency at all levels, including customs, standards, lab tests etc.

A comprehensive agreement on customs was being finalised, which would ensure speedy clearance of cargo at border posts, he said.

He said that a joint border liaison committee would be set up to sort out trade issues between the two sides and share laws with regard to customs valuation etc.

Both the sides, Puri said, would also enter into an agreement to harmonise certification, standards and lab tests which would be acceptable to both the countries.

During the meeting, the Indian regulators, including additional director of Export Inspection Council Rajiv Raizada and deputy director technical of Food Safety and Standards Authority of India (FSSAI) Rajeev Kumar Sharma explained in detail Indian import regime, food safety, standards and inspection requirements.

From Pakistan side, business leaders from the FPCCI, KCCI and Dr Ikhtiar Baig, chairman of Pakistan Denim, participated in the meeting.

Puri said that TDAP was also engaging consultants to study the potential of Indian market and their findings would be discussed with stakeholders in a series of seminars to be held across the country.

The objective of the study, he said, was to learn potential of Pakistani products for Indian market and examine tariff structure with regard to other competitors.

India had assured of liberalising visa regime to enable genuine businessmen to take benefit of multiple entry visa with duration of up to a year and for a number of cities on each trip, he said.

India had trade ties with all regional countries in the South Asia and none had ever complained their trade with India had harmed their domestic industry, he added.

Puri said, the government could stipulate steps to protect its domestic industry at any time and the Pakistani business community should not harbour any fears about dumping of Indian goods in the market.

He said the proposal for setting up braches of central banks in each others' countries came for discussion at the  commerce secretaries' level.