Arvind Panagariya expected to be new V-C of NITI Aayog
New Delhi: Speculations are doing rounds that noted economist and Columbia University Professor Arvind Panagariya is expected to be the new Vice-Chairman of the revamped Planning Commission NITI Aayog.His appointment is also expected to be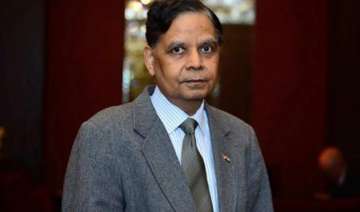 PTI
January 03, 2015 16:03 IST
New Delhi: Speculations are doing rounds that noted economist and Columbia University Professor Arvind Panagariya is expected to be the new Vice-Chairman of the revamped Planning Commission NITI Aayog.
His appointment is also expected to be formalized soon.
In the lead up to the 2014 general elections, Panagariya had endorsed Prime Minister Narendra Modi's policies and had backed the Gujarat model of development.
He was considered once before also for the Chief Economic Adviser's post after NDA government came into power but then it shied away from naming him due to his free market views.
He is currently the Jagdish Bhagwati Professor of Indian Political Economy in the Department of International and Public Affairs and of Economics in Columbia University.
He was a professor of economics and co-director of the Center for International and Public Affairs at the University of Maryland, and the chief economist of the Asian Development Bank. He has also advised the World Bank, IMF, WTO, and UNCTAD in various capacities, according to the department's website.
He has written or edited more than a half-dozen books and writes for several national and international newspapers and magazines.
The distinguished economist, a protégé of the eminent economic thinker Jagdish Bhagwati is a firm reformist and believes in privatization of state-run enterprises.
"But in not too distant future, the loss-making PSUs that have no chance of revival should be sold to private parties or closed down quickly," Panagariya told to a leading daily in an interview last year.
"In the longer run, the government must return to the first NDA government's privatization agenda. The government has plenty of tasks to perform and manufacturing products should not be one of them," he added.