Bajaj's tribute to 'INS Vikrant', unveils 'Bajaj V' made up of the warship's scrap
New Delhi: ''Invincible! That's how the V feels, whether you ride it or see it proudly pass you by''. India's two-wheeler brand Bajaj Auto has launched a new 150cc engine motorbike, Bajaj V. The model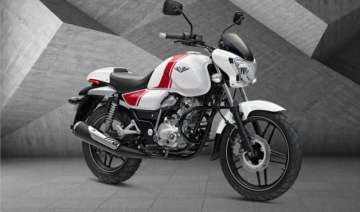 India TV News Desk
February 01, 2016 18:53 IST
New Delhi: ''Invincible! That's how the V feels, whether you ride it or see it proudly pass you by''. India's two-wheeler brand Bajaj Auto has launched a new 150cc engine motorbike, Bajaj V. The model was announced on January 26 and is made from the metal scrap of India's first aircraft carrier, INS Vikrant. The motorbike was unveiled at an event in Delhi today.
The price of the bike is expected to range between Rs 60,000 and Rs 70,000. The production of the bike will begin from February 5 and will be up on sale from March, 2016.
INS Vikrant was commissioned as the first aircraft carrier of the Indian Navy. After years of distinguished service, she was decommissioned in January 1997. The warship played a key role in enforcing the naval blockade on East Pakistan during the Indo-Pakistan War of 1971.
Bajaj Auto, in a statement said, "For decades, she remained invincible bravely guarding our seas. However in 2014, this iconic war hero was sent to the scrap yard. But we, at Bajaj, were determined not to let history fade away into oblivion. So we took INS Vikrant's metal, melted it and gave it a new face – Bajaj V."
The Bajaj V bike is powered by a new 150 cc DTSI, single-cylinder, 4-stroke engine that churns out a maximum power output of 12bhp at 7,500rpm and 13Nm at 5,500rpm. Key design elements include INS Vikrant badge, 5-twin spoke alloys, premium texture material, removable rear cowl, LED tail-lamp, bold graphics, premium instrument panel with color changing LEDs, pumped up fuel tank, ergonomic handlebars for wide open chest feeling. Bajaj V is made available in two colours – Ebony Black & Pearl White.
Key Specs
Engine: 149.5cc, single-cylinder
Max power: 12bhp at 7,500rpm
Max torque: 13Nm at 5,500rpm
Front suspension: telescopic
Rear: Twin-spring loaded hydraulic type with gas filled 
Front brakes: 240-dia disc 
Rear brakes: 130 dia drum 
Front tyre: 90/90 – 18inch 
Rear tyre: 120/80 – 16inch 
Fuel tank: 13 litres with 1.7 reserve capacity