Banks must be strict with willful defaulters, Chidambaram says
New Delhi: Public sector banks should deal strictly with wilful defaulters to check non-performing assets (NPAs) while being sympathetic towards borrowers facing difficulties, Finance Minister P Chidambaram said today."Genuine defaulters and wilful defaulters need to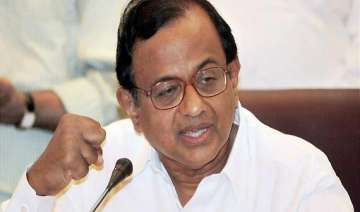 PTI
August 29, 2013 19:49 IST
New Delhi:
Public sector banks should deal strictly with wilful defaulters to check non-performing assets (NPAs) while being sympathetic towards borrowers facing difficulties, Finance Minister P Chidambaram said today.
"Genuine defaulters and wilful defaulters need to be dealt with separately. We have to be strict with willful defaulters," Chidambaram said in an address to the Parliamentary Consultative Committee attached to his Ministry.
He said that bankers have been told to be sympathetic and have a "humane approach" towards genuine defaulters.
"This is time for hand-holding of borrowers who are facing difficulties, especially industry," he added.
The NPAs of public sector banks rose to 3.84 per cent of advances at the end of March from 2.32 per cent in March 2011.
The NPAs of banks in the agriculture sector was at 5.46 per cent, in MSME at 5.82 per cent, in the corporate sector at 3.44 per cent, in retail loans at 2.37% and real estate at 1.92 per cent.
The Finance Minister said levels of NPAs are critically dependent on the performance of the economy. If economic growth was at 8 to 9 percent, then NPAs would be low.
Chidambaram further said banks must ensure that credit flows to every sector of industry.
He further said banks need capitalisation to meet their enhanced lending, which is increasing every year. This year, the government has made provisions of Rs 14,000 crore for bank recapitalisation.
Chidambaram said banks normally make their own arrangements to meet capital requirements, both through their own resources and from the market.