Airtel to hike fixed line broadband rates from April
New Delhi: Airtel's fixed-line broadband customers will have to shell out more for Internet services from next month as the service provider has hiked the charges, by up to 40 per cent in certain plans.The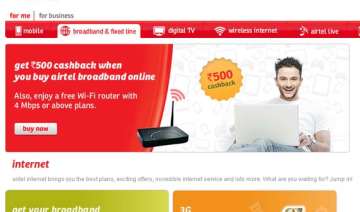 PTI
March 12, 2014 12:42 IST
New Delhi:
Airtel's fixed-line broadband customers will have to shell out more for Internet services from next month as the service provider has hiked the charges, by up to 40 per cent in certain plans.
The operator has informed its customers that the increase in broadband rates would be effective from next billing cycle in April. Due to an increase in input cost, the rent will be revised from Rs 250 to Rs 349 with effect from April 17, 2014, the company said in a communication to a customer.
In another communication to a customer, the company mentioned that from April 23, the rental will be increased from Rs 850 to Rs 949. The company in the plan also informed customers about increasing minimum speed of broadband to 512 kilobit per second from 256 kbps.
When contacted, an Airtel spokesperson said, "Tariff rationalisation is a continuous process and a function of market dynamics. This price revision of our broadband plans is in line with the increasing input costs that have a direct impact on the final prices."