Make free calls from Facebook Messenger app on Android, iOS
New Delhi: Facebook messenger users are in for a treat, as the social networking giant has started rolling out voice calling feature in India. This feature will be available for Android and iOS users through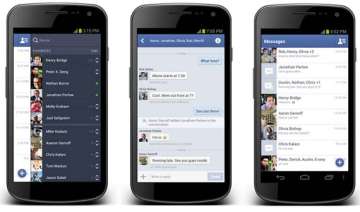 India TV News Desk
March 20, 2014 11:19 IST
New Delhi:
Facebook messenger users are in for a treat, as the social networking giant has started rolling out voice calling feature in India. This feature will be available for Android and iOS users through an update.
The voice calling feature of Facebook Messenger is completely free and requires only data connection. The voice relay on 3G or Wi-Fi is clear and sharp and offers excellent call quality. The service will be available across all countries. 
To make a call, a user will have to select the conversation thread with a contact, and tap on 'Free Call' in the drop down menu in the upper right hand corner. Only the contacts who have the messenger installed can be reached.
The call interface shows the contact's cover image in the background and the profile image in the foreground. It gives the basic phone call options of Mute, Speaker and minimising the call screen.
With the launch of the voice calling service, Facebook is looking to compete against other messenger apps like Line and Viber, which offer voice calling features. Recently, Facebook-acquired WhatsApp's CEO Jan Kuom had revealed that the company would launch voice calling as well later this quarter. 
However, desktop users will not have access to voice calls from Facebook accounts.