Meet Forbes' top 15 richest people on planet for 2014
New Delhi: After a four-year hiatus, Microsoft chief Bill Gates has reclaimed his spot as the richest person on the planet, according to Forbes magazine's annual billionaire list that includes 56 India based billionaires led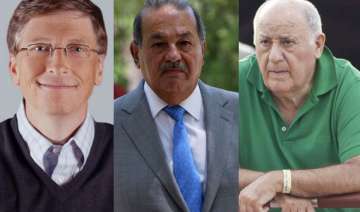 India TV News Desk
July 20, 2014 10:23 IST
New Delhi:
After a four-year hiatus, Microsoft chief Bill Gates has reclaimed his spot as the richest person on the planet, according to Forbes magazine's annual billionaire list that includes 56 India based billionaires led by RIL Chairman Mukesh Ambani.
With a net worth of $76 billion, Gates toppled Mexico's telecommunications mogul Carlos Slim Helu, who placed second at $72 billion, Forbes said in announcing the list on Monday.
Gates, whose fortune rose by $9 billion in the past year, has held the top spot for 15 of the past 20 years.
Amancio Ortega, the Spanish founder of clothing conglomerate Inditex SA, which includes the Zara fashion chain, ranked third at $64 billion.
Investing icon Warren Buffett, who runs Berkshire Hathaway Inc, was ranked at fourth place with a net worth of $58.2 billion. Oracle Corp chief Larry Ellison came in fifth at $48 billion.
Forbes said the year's biggest loser was Brazilian tycoon Eike Batista, whose net worth fell below $300 million from $10.6 billion as his oil and natural resources empire collapsed amid too much debt and falling output.
Here is the list of top 15 richest people on planet: