LG G2 4G LTE variant launched in India at Rs 46,000
New Delhi: LG has launched 4G LTE of its flagship G2 smartphone in India at Rs 46,000 for the 16GB variant, and Rs. 49,000 for the 32GB variant. The smartphone will be made available by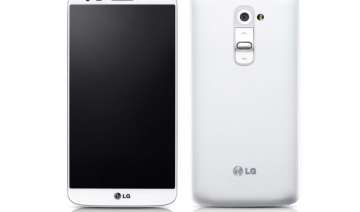 India TV News Desk
March 04, 2014 10:39 IST
New Delhi:
LG has launched 4G LTE of its flagship G2 smartphone in India at Rs 46,000 for the 16GB variant, and Rs. 49,000 for the 32GB variant. The smartphone will be made available by mid-March. The 4G LTE version sports same specifications as that of LG G2 besides apart from the additional 4G LTE support.
The LG G2 comes with a 5.2-inch full-HD (1080x1920 pixels) display, with a pixel density of 423ppi. It is powered by Qualcomm's quad-core Snapdragon 800 processor that's clocked at 2.26GHz. The device comes with 2GB of RAM.
The device packs in a 13-megapixel rear camera with Optical Image Stabilisation and a 2.1-megapixel front shooter. The device runs Android Jelly Bean 4.2.2.
The G2 4G LTE version comes with a unique design that features the power buttons and the volume rocker at the back of the phone, below the rear camera, instead of the sides of the phone. The smartphone also offers extremely thin bezels at 2.65mm.
The smartphone is powered by a 3000mAh battery.
The company had earlier unveiled G2 mini, a lighter version of the flagship G2 which features a smaller 4.7-inch IPS LCD display with a qHD (540x960 pixels) resolution.
The company is also planning to launch the LG Life Band Touch wristband in second half of 2014, which was previously unveiled during the CES 2014.