Mercedes Benz opens outlet in Bhopal
Bhopal: Leading automobile major, Mercedes Benz India opened its 62nd outlet in the country here today to meet the growing demand for luxury cars in Madhya Pradesh."With the opening of this outlet, the company has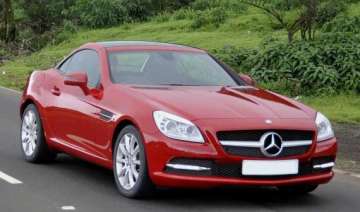 PTI
March 03, 2014 17:15 IST
Bhopal:
Leading automobile major, Mercedes Benz India opened its 62nd outlet in the country here today to meet the growing demand for luxury cars in Madhya Pradesh.
"With the opening of this outlet, the company has established its network in 35 cities across the country to cater to the growing demand for luxury cars," Mercedes-Benz India Managing Director and CEO Eberhard Kern told reporters after inaugurating the new facility here.
The company already has an outlet in Indore in MP.  "The fascination for luxury cars has been fuelling the demand for Mercedes-Benz cars in Madhya Pradesh.
"The inauguration of this facility with Benchmark Cars in Bhopal is part of our qualitative network expansion across the country and will be instrumental in reaching out to our growing customer base in and around Bhopal," Eberhard said.  The company is also working on setting up a workshop in Bhopal, he said.
"There is a lot of potential for Mercedes-Benz to grow in Madhya Pradesh and with this new facility, we are confident of reaching out to more customers in Bhopal and other cities like Gwalior and Jabalpur," Benchmark Cars Chairman Sanjay Thakker said.