Moto G 16 GB back in stock on Flipkart
New Delhi: There's good news for those eyeing up Moto G, an affordable smartphone with premium specifications. Both the 8 and 16GB variants of the device are now available for purchase on Flipkart, Motorola's official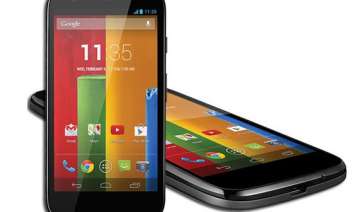 India TV News Desk
March 04, 2014 17:20 IST
New Delhi:
There's good news for those eyeing up Moto G, an affordable smartphone with premium specifications. Both the 8 and 16GB variants of the device are now available for purchase on Flipkart, Motorola's official partner in India.
Moto G had gone out of stock in the country in February, with its exclusive online retailer showing a waiting period of 10-20 days till new stock arrive. Soon thereafter, the 8GB model was back in stock, but the 16GB variant remained unavailable. The 8GB variant is priced at Rs 12,499, whereas the 16GB model costs Rs 13,999.
The smartphone has already received the Android 4.4 update, making it one of the few devices to run the latest version of Google's mobile operating system.
Top features of the device include 4.5-inch HD screen, 1.2GHz quad-core Snapdragon 400 processor, 1GB RAM, free 65GB cloud storage. The losing points of the new device include the absence of microSD card and a 5MP camera.
Motorola recently tweeted that Moto G has become the company's highest-selling smartphone of all time. Apart from India, Moto G is available in the US, Brazil, Canada, Europe and Latin America.