Budget 2015: Centre may deregulate urea
New Delhi: After petrol and diesel, the NDA-government is contemplating to deregulate urea. The proposed deregulation plan may be announced in the coming Union Budget for 2015-16.The government is reportedly working on a three-year plan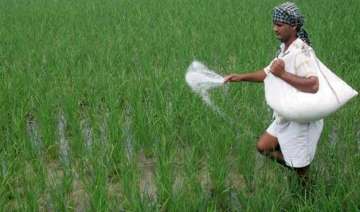 India TV Business Desk
January 19, 2015 11:39 IST
New Delhi: After petrol and diesel, the NDA-government is contemplating to deregulate urea. The proposed deregulation plan may be announced in the coming Union Budget for 2015-16.
The government is reportedly working on a three-year plan to decontrol the maximum retail price (MRP) of the farm nutrient, currently fixed at Rs 5,360 a tonne. Centre might also permit duty-free imports of Urea without any canalisation or restrictions and credit the subsidy directly into the bank accounts of farmers.
Urea imports now attract 5% customs duty and can be undertaken only through the state-owned MMTC, STC and Indian Potash.
An Indian Express report, while quoting sources, said that in three years the government will have full digitisation of land records and soil health cards for every farmer, apart from bank accounts under the Pradhan Mantri Jan Dhan Yojana (PMJDY) seeded with unique Aadhaar numbers.
Officials said that three years is reasonable time for full decontrol.
Since April 1, 2010, when a nutrient-based subsidy (NBS) regime was introduced, the prices of all non-urea fertilisers have shot up significantly.
The Centre raised the MRP of urea only marginally, from Rs 4,830 to Rs 5,360 a tonne. Urea has been kept out of the NBS, under which firms are paid a fixed subsidy for every tonne of fertiliser based on nutrient content.
Urea constitutes roughly 55 per cent of India's total fertiliser consumption. Out of the Centre's fertiliser subsidy of Rs 72,970.30 crore budgeted for 2014-15, Rs 48,300 crore is on account of urea.