Chinese aggression hurting Indian diamond industry
New Delhi: Aggressive manufacturing policy of the Chinese is hurting the business of manufacturers and traders involved in diamond business in Trichirappalli, said a senior executive of the All India Synthetic diamonds manufacturers and dealers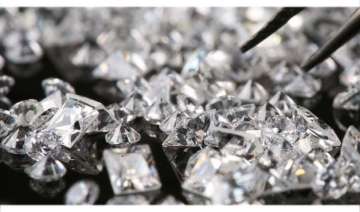 PTI
January 08, 2015 15:51 IST
New Delhi: Aggressive manufacturing policy of the Chinese is hurting the business of manufacturers and traders involved in diamond business in Trichirappalli, said a senior executive of the All India Synthetic diamonds manufacturers and dealers Association (SDMDA).
Speaking to PTI, Ashok Gandhi, Vice President, SDMDA said that the downfall of the trade in this district could be attributed to the "poor policy" of the Union Ministry as well as the State Government.
"In Trichy, the citadel of American Diamonds, the business garnered had been in the region of Rs. 250 crores in the early part of last decade. However, this has drastically slumped to a meagre sum of less than Rs. 20crores.' This has also impacted the employment opportunities, Gandhi said. Over two lakh artisans were involved in this trade and manufacture earlier and this has now come down to around 90,00.
The association had suggested to the Centre to hold expos both in India and overseas to encourage and promote this specific segment.
Gandhi was of the opinion that the Govt should impose a total ban of such products from China. At the same time, there should be an excise duty reduction on machinery and equipments pertaining to the manufacturers.
The association was ready to impart training to any youngsters requiring job opportunities. Recently, the association gave training to the inmates of Trichy Central prison.
He said that the gvt should provide some relief on power tariff as it was impacting them adversely.