Confident about Coal India raising output: Piyush Goyal
New Delhi: Following his talks with unions to end the Coal India workers' strike, Coal and Power Minister Piyush Goyal is doubly confident of the state miner achieving its production target of a million tonnes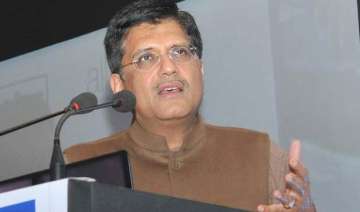 IANS
January 10, 2015 8:30 IST
New Delhi: Following his talks with unions to end the Coal India workers' strike, Coal and Power Minister Piyush Goyal is doubly confident of the state miner achieving its production target of a million tonnes of coal by 2019.
"What I am most confident about that can actually happen, more so after my night before yesterday's meeting with the union leaders, is that Coal India will reach its target of doubling its production by 2019," Goyal said on Friday.
"They (unions) gave me a number of specific and valuable suggestions, for instance, how 11 million tonnes could be produced from a particular mine if environment clearance was taken, or on checking theft of coal," he added.
The power ministry Thursday listed coal workers calling off their nationwide strike late Wednesday as a major achievment of the first 200 days of the NDA government.
"Coal India (CIL) will be protected and there need be no apprehension about its ownership or management going into private hands," Goyal told media persons after a marathon six-hour-long meeting here with union leaders.
The unionised miners have promised to help make up for the loss, he added.
Pointing out how the ordinance on reallocation and auction of 204 coal blocks cancelled in September by the Surpeme Court will change the power generation scenario, Goyal said the process of e-auction was the "first true test" of the government's ability to transit seamlessly from the old system of allotment of mines to their auctioning.
"A 100-odd blocks are going to be out by June. We're focusing on the first 42 mines in March," the minister said of the auction time-table.
"By March, when the auctions are through and bankers see more coal production, it will also resolve issues of financing of the sector," Goyal added.
Saying it was Prime Minister Narendra Modi's support which helped him "bite the bullet" on the ordinance with the enabling provisions for commercial mining of coal, Goyal said that production grew by over 14 percent in October-November last year.
Electricity generation also witnessed double-digit growth over the same period, at 10.2 percent.
Pointing out the capital needs of the power sector, Ratul Puri, chairman Hindustan Powerprojects, said that to ensure capital availability for the sector over $200 billion of investment was required during the 13th Plan period beginning 2017.
"Over Rs.10 lakh (1 million) crore of debt needs to be taken on, where the banking system's cumulative outstandings are around 20 lakh crore. Banks cannot meet this challenge without policy intervention," Puri said.