Costlier onion, veggies push inflation to 5-mth high of 5.79%
New Delhi: Rising prices of onions and other vegetables pushed inflation to a five-month high of 5.79 per cent in July even as the government and RBI battled to stabilise the rupee. Inflation based on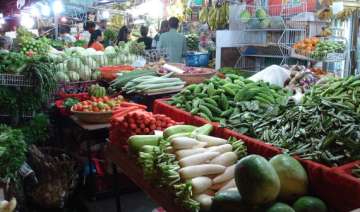 PTI
August 14, 2013 15:34 IST
New Delhi:
Rising prices of onions and other vegetables pushed inflation to a five-month high of 5.79 per cent in July even as the government and RBI battled to stabilise the rupee.
Inflation based on the Wholesale Price Index (WPI) was at 4.86 per cent in June. In July 2012, it was 7.52 per cent.
The July number is above the Reserve Bank's comfort level of 4-5 per cent inflation. This is the highest level of inflation since February 2013, when it was 7.28 per cent.
As per official data released today, WPI inflation in the food articles category rose to double digits at 11.91 per cent, driven by rising prices of onions, cereals and rice.
The rate of the price increase in food articles, which has a 14.34 per cent share in the WPI basket, was at 9.74 per cent in June. Inflation in food articles has risen for the third straight month.
Onion prices on annual basis more than doubled in July, shooting up by 145 per cent. Vegetables prices went up by 46.59 per cent during the month from 16.47 per cent in June.
Planning Commission Deputy Chairman Montek Singh Ahluwalia said the rise in inflation was mainly on account of depreciation in the currency against the dollar and hoped that as the supply side improves, food inflation would come down.
"With the currency appearing to stabilise, I don't expect this (inflation) to continue. I think if we can get moderation on the food front once the impact of the good monsoon becomes available, I think we will end the year (with inflation) between 5 and 6 per cent," he said.
The declining value of the rupee has made imports of oil costlier and pushed up fuel and power inflation to 11.31 per cent in July.