CRH set to buy Sree Jayajothi Cements for Rs 1400 crore: report
New Delhi, Aug 12: Irish cement maker CRH, through its joint venture with Hyderabad-based My Home Industries, has acquired SreeJayajothi Cements, a unit of southern conglomerate Shriram Group, for Rs 1400 crore. Sree Jayajothi Cements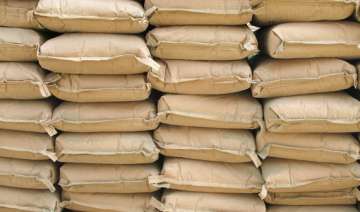 India TV Business Desk
August 12, 2013 9:56 IST
New Delhi, Aug 12:
Irish cement maker CRH, through its joint venture with Hyderabad-based My Home Industries, has acquired SreeJayajothi Cements, a unit of southern conglomerate Shriram Group, for Rs 1400 crore. Sree Jayajothi Cements has a 3.2 million-ton cement plant in Andhra Pradesh.
The deal is one of the largest M&A deals in the Indian cement sector which will lead to further consolidation in the cement industry.
Reports suggest the Rs 1,400 crore raised through this transaction would be used to retire nearly Rs 900-crore debt while the balance would be shared by the Shriram Group and Jayavilas Group.
The deal would would give MyHome a strong presence in South India, more specifically Andhra Pradesh where prices are showing recovery.