Instead of tax cuts, we want a demand-oriented budget from Arun Jaitley: Dr Mahesh Gupta, PHDCCI President
New Delhi: MSME (Micro, Small and Medium Enterprise) sector plays a crucial role in the growth of economies like India.  No country can overlook the demands and aspirations of MSME entrepreneurs if it has to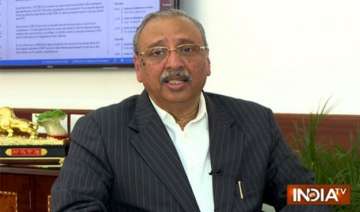 Raj Singh
February 05, 2016 11:44 IST
New Delhi: MSME (Micro, Small and Medium Enterprise) sector plays a crucial role in the growth of economies like India.  No country can overlook the demands and aspirations of MSME entrepreneurs if it has to realise the dreams of achieving an all-inclusive growth. MSME entrepreneurs are spread throughout the length and breadth of India – from a remote village to an aspiring smart city.
 
PHDCCI (PHD Chamber for Commerce and Industry) is an industry body that represents the MSME entrepreneurs of India and has been vocal about the aspirations of small and medium traders and businessmen of the country.
In an exclusive interview with indiatvnews.com, Dr Mahesh Gupta, President of PHDCCI, said that MSME sector has high expectations from Arun Jaitley in the upcoming Budget 2016.
 
According to Dr Gupta, Indian industry is struggling today because there is no demand in the market owing to various factors including global slowdown and therefore, Finance Minister Arun Jaitley must come up with a demand-oriented budget this time instead of worrying too much about tax cuts.
 
Putting at rest the scepticism over new GDP series introduced by the govt, Dr Gupta asserted that the GDP figures should not be doubted just because it is not corroborated by traditional indicators like factory output, corporate profitability and bank loans. He points out that the modern India's economy is being mainly driven by the service sector and its net is constantly widening.
 
Terming the stalemate over GST 'unfortunate', Dr Gupta rued the fact that political considerations have held up the passage of a crucial bill like GST that has thebacking of every corporate as well as state governments. He hoped that political parties will sit down and resolve their minor differences over GST bill.
 
A successful entrepreneur himself, Dr Gupta has an interesting piece of advice for young aspiring entrepreneurs - please offer innovative solutions to the consumers and add value to the products.
 
"Business is what? It's giving less, taking more. It's not like love which is all about giving more, taking less," says Dr Gupta.
Here goes the full text of the interview:
MSME Sector: Major Challenges
Q: What are the major challenges that the MSME sector is facing in India presently?
 
Dr Gupta: The whole world is going through a slowdown process and the recession is very-very severe. We have seen crude oil prices come down from $110 to about $25. This reduction in price is not because of excessive production in the market. Instead, it's because of the reduced demand. Every country is facing reduction in demand. Once the demand gets reduced and the slowdown happens, everybody gets affected.
Undoubtedly, big industries also get affected but the most affected sector is the MSME.  This is because the MSME gets orders from the big industries. The moment the bigger industries are not performing well, the smaller ones get bigger problems.
 
Under these circumstances, MSMEs stop getting orders. Then in India, the cost of borrowing is very high. MSMS have to borrow at the interest rate of 12%. Since they don't have money, they have to borrow to make up for those losses. Even the banks are not in a position to fund them. On top of it, a new company law has come in. The new law prohibits funding from their sister companies. Therefore, MSMEs are in really bad shape because of this slowdown.
Read Also: Economy moving in right direction to achieve 8% growth, says Harshavardhan Neotia, FICCI President (Exclusive)
Budget 2016-17: Expectations from Arun Jaitley
Q: What are your expectations from Finance Minister Arun Jaitley in upcoming Budget 2016-17?
 
Dr Gupta: Mr Jaitley has already said that we should not expect a populist budget. He wants to concentrate on a good structural balance in the budget. Therefore, I believe we are not going to get big reliefs from the budget.
 
However, I do expect one thing very surely and our chamber, PHDCCI, has also mentioned it in pre-budget meetings with the Finance Minister. We want this budget to bebdemand generation oriented. The real problem for the industry today is that there is no demand in the market. If, by some processes, the demand can be generated in thebmarket then this will help in boosting the sentiment and it will revive the economic activity. More than reduction in taxes, we would like people of India to come backbto the market and start purchasing.