Dunkin Donuts introduces its range of burgers in India
New Delhi, July 11: Dunkin' Donuts, the world's leading baked goods and coffee chain has introduced its range of Dunkin' Burgers in India. Available in eight variants, the range include both vegetarians and non vegetarians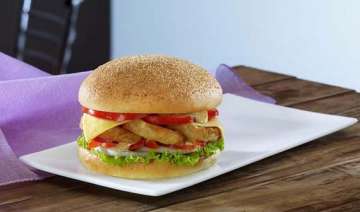 India TV Business Desk
July 11, 2013 17:40 IST
New Delhi, July 11:
Dunkin' Donuts, the world's leading baked goods and coffee chain has introduced its range of Dunkin' Burgers in India. Available in eight variants, the range include both vegetarians and non vegetarians options.
The company says the burgers are made of ingredients like freshly baked handmade wheat bran bun, layers of tangy sauces, delicious cheese and lip smacking patties.
The vegetarian range includes Potato Hash Brown Burger at Rs 59, Spicy Veg Burger and Green Veg Burger at Rs 100 and Chef's Special Veg Burger at Rs 129. For non vegetarians, new flavours such as Pepper Chicken and Smoked Chicken have been introduced in burgers.
The non vegetarian range starts with a Classic Chicken Burger at Rs 89, Smoked Chicken and Pepper Chicken Burger at Rs 125 and includes the 'Heaven Can Wait' Chicken Burger at Rs 170.
Special combos are introduced with the burgers starting at Rs 89 + taxes, which is a hash brown burger with iced tea combo.
Speaking on the launch of Dunkin' Burgers, Dev Amritesh, President and COO, Dunkin' Donuts India said "Burgers have always been a favorite food amongst food lovers. With the launch of Dunkin's differentiated and special Burger Range, we bring the perfect option for our food lovers to satisfy their hunger and treat their taste-buds. This lip smacking culinary extravaganza from Dunkin'ensures that both vegetarians and non-vegetarians have a taste of sheer heaven on earth."
The range will be available in Delhi / NCR and Chandigarh.