Panagariya: Economy to grow at 8-10% for 15 years
New Delhi: The Indian economy is expected to grow at 8-10 per cent for the next 15 years, though the expansion may be higher in dollar terms, NITI Aayog Vice Chairman Arvind Panagariya said here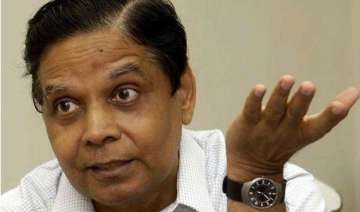 PTI
April 13, 2015 15:06 IST
New Delhi: The Indian economy is expected to grow at 8-10 per cent for the next 15 years, though the expansion may be higher in dollar terms, NITI Aayog Vice Chairman Arvind Panagariya said here today.
"I expect India's economy to grow anywhere between 8 and 10 per cent in the next 15 years," Panagariya said while delivering a lecture at an energy conference here.
He further said, "If the economy actually grows at 8-10 per cent in rupees, in dollar terms it would be about 11-12 per cent and that kind of growth will turn India into about an $8 trillion economy from the current $2 trillion."
The Finance Ministry had also projected in the Economic Survey the growth at 8-8.5 per cent in the current financial year (2015-16) and double-digit in the coming years.
The NITI Aayog chief added that the country's economy grew by 8 per cent under the earlier NDA government regime and that was sustained for a long period of time.
As per the advance estimates of Central Statistics Office (CSO), India's economic growth is pegged at 7.4 per cent in 2014-15 while the Reserve Bank of India's recent projection say that GDP growth will accelerate to 7.8 per cent in the current fiscal.
Referring to the challenges on the energy front, Panagariya said, the demand for power, coal, oil will expand rapidly with the country becoming richer.
"Energy demands for India are going to rise as it becomes richer. I expect India's energy demands to grow leaps and bounds as the time goes by," he said.
India needs rapid expansion for the simple reason that one—fourth of the households in the country lack electricity.
The growing consumption of energy, he added, will also create challenges on the environment front.
"At the end of the day India is not the largest polluter, India by any stretch of imagination has not been a mass polluter, much of the responsibility lies with the western countries," he added.
However, there is an important angle from which India needs to promote clean energy and that is purely from the point of view of domestic use, he said.