Finance Minister P Chidambaram seeks support on Insurance, Pension bills
New Delhi, Aug 4: Keen to ensure passage of key bills on opening up the insurance and pension sectors, Finance Minister P Chidambaram today reached out to opposition leaders for support in the monsoon session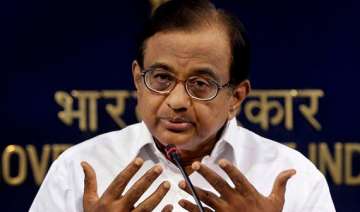 PTI
August 04, 2013 15:45 IST
New Delhi, Aug 4:
Keen to ensure passage of key bills on opening up the insurance and pension sectors, Finance Minister P Chidambaram today reached out to opposition leaders for support in the monsoon session of Parliament beginning Monday but failed to get assurance.
Chidambaram had a discussion with BJP leaders Sushma Swaraj, Arun Jaitley and Yashwant Sinha on the financial bills that have been listed for consideration during the session.
The BJP leaders agreed to support routine and necessary financial business but indicated that the party will continue to oppose further opening of the insurance and pension sectors to foreign direct investment (FDI).
"He (Chidambaram) came to discuss financial legislation that the government plans to bring in the monsoon session. There was agreement on some suggestions made by the Finance Minister, but disagreement on others," BJP spokesman Shahnawaz Hussain said.
In the insurance sector, the government proposes to increase the FDI cap to 49 per cent from 26 per cent, which the BJP opposes. The main opposition party is also against raising the FDI limit in the pension sector to 49 per cent.
During the session, the BJP is expected to raise the issue of government further easing FDI norms in various sectors and press for detailed debates on the matter.
The government earlier this week decided to raise FDI caps in sectors such as telecom (from 74 per cent 100 per cent), power exchanges, petroleum and natural gas sector and courier services, besides easing sourcing and investment norms for multi-brand retailing.
Swaraj, Leader of Opposition in the Lok Sabha, has demanded a debate on the current economic situation in the backdrop of the declining rupee, rising prices and slowing GDP growth.
Besides the insurance and pension bills, the economic agenda for the monsoon session includes the Companies Bill, Direct Taxes Code Bill and changes in the Sebi law.