Faster than ever: Flipkart may soon deliver goods in less than 3 hours
New Delhi: Country's largest online retailer, Flipkart, is trying to figure out that how can it get goods delivered to the customers in as little as three hours.The company is in a process to evaluate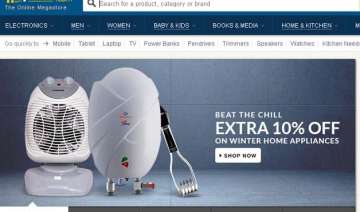 India TV Business Desk
January 05, 2015 15:59 IST
New Delhi: Country's largest online retailer, Flipkart, is trying to figure out that how can it get goods delivered to the customers in as little as three hours.
The company is in a process to evaluate the possibilities to deliver at least some products in 3-4 cities at a reduced turnaround time, while keeping the costs in control.
The move which is aimed at staying ahead of other e-tailers, will benefit customers in terms of faster delivery of goods and in turn increase its hold on the market as well.  
Sujeet Kumar, head of WS Retail and ekart Logistics, told Economic Times, "We have to figure out the technology, pricing for these services. Such deliveries are necessity driven — say a thing a customer wants to gift or something he needs immediately". WS Retail is the largest vendor on Flipkart marketplace.
 
Kumar further told, "Flipkart has to offer a viable business model because it (3-4- hour delivery) will be expensive for the customer".
Karan Girotra, professor of sustainable development at Insead, has zeroed on two important points that need to be worked upon to make this work.  "First, the retailers need to select a small subset of their offerings which are available with these time frames. Second, meeting this delivery promise requires organizations to build very different logistics and operational systems than those necessary for traditional delivery through route-based delivery systems. For instance, retailers may need to have many more warehouses in central parts of the city to make this work," he told to ET.
 
Girotra also objected on the marketplace models of such e-commerce players. He believes that it will be very difficult for them to bridge the time barrier as delivery involves picking up the merchandise from a third-party location. This makes it harder to offer the goods ultra-fast.
Flipkart claims to have a strong logistics and a delivery team in place, with 13 warehouses and over 12,000 people helping with the last-mile delivery.
Until last few years most of the deliveries by these e-retailers took around a few days. The three top online firms – Amazon India, Flipkart and Snapdeal – offered same day delivery in big cities for a fee. However, they delivered it free of cost by next day but only in the big cities. In the outside areas, it usually takes longer time in shipping.
Faster delivery could, prove to be a game-changer in this fiercely competitive space, reckon experts, and shortening the shipping time to a few hours may draw more users. This could also persuade Amazon India to introduce similar services in the country. The parent company ships FMCG goods, including detergents and shampoos, to consumers in Manhattan in 60 minutes for a $7.99 fee.