Flipkart set to launch next Billion-day Sale; this time bigger
New Delhi: The giants of online retailers, Flipkart, is going to launch yet another mega discount sale event which will be many times bigger than its previous event in October.Despite few knocks last October, the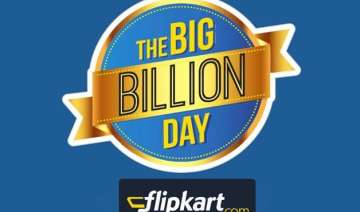 India TV Business Desk
January 31, 2015 9:18 IST
New Delhi: The giants of online retailers, Flipkart, is going to launch yet another mega discount sale event which will be many times bigger than its previous event in October.
Despite few knocks last October, the company is working to improve its ability to anticipate demand, deliver goods faster and eliminate sub-standard and fake products.
"The sale emerged as a great learning experience for us and we have already started to implement processes in order to scale up our tech capabilities," said Sachin Bansal, CEO and co-founder of Flipkart.
Almost 1.5 million shoppers bought goods such as phones, clothes and accessories worth over $100 million from Flipkart on the Big Billion Day sale on October 6. However many users either found their product out of stock or the website crashes.The founders later apologised to their customers and said they were not adequately prepared for the sheer scale of the event.
Flipkart plans to work closely with sellers on its site to improve its ability to predict demand and invest more in automating its supply chain to speed up delivery, Bansal said. The e-tailer aims to double the strength of its technology team in the next 12-18 months. It currently employs about 1,000 people in its engineering division.
This time it will be many times bigger than that of before and the founders expect their mobile platform to play a larger role in serving the customers during this year's sale. Mobile commerce is growing twice as fast as desktop for Flipkart and currently accounts for over half of the company's sales.
"The pace at which this medium is catching up with and even surpassing desktops is faster than what we have seen in the US or China, where the concept of mobile commerce has been around for longer," Bansal added.
The company's focus this year will be on data analytics to offer personalised experiences across its mobile apps, marketplace platform and supply-chain network.
Flipkart has a large amount of customer data that can be used to improve sales. During the Big Billion Day sale, it generated almost 500 TB of commerce data. "We primarily use data to predict customer trends based on region, gender, wish list etc., to drive an enriching shopping experience," said Bansal.
The online retailer wants to get to 1 lakh sellers on its online marketplace by the end of the year, according to Ankit Nagori, SVP - Marketplace at Flipkart. It has tied up with small and medium enterprises, government bodies and co-operative societies to increase the number of sellers on the site.
"We aim to have at least 10,000 sellers become millionaires this year through the sales generated on our platform," said Nagori. WS Retail, a company Flipkart hived off earlier, is still one of the largest sellers on the marketplace but others have been catching up, he said, declining to disclose its share of overall sales.
The merchants selling sub standard products on the site will be checked strictly because online marketplace like Flipkart face difficulty controlling the quality of items listed by third-party sellers. Some consumer companies have alleged that counterfeits of their products are sold online.
Flipkart will now ensure that the sellers have a registered business and can only offer original products with warranties. Sellers blacklisted by other ecommerce portals won't qualify to sell on Flipkart. Currently, there are over 4,000 sellers on the site.
"We also have on-ground teams carrying out quality checks at seller facilities from time to time along with mystery shoppers who are constantly monitoring sellers for product quality, delivery timelines and customer friendly return/replacement policies," he said.
The e-commerce company is looking to raise another round of funds at a valuation of $15 billion (Rs 95,000 crore) and to sell goods worth $5 billion by March 2016. It is now valued at $11.25 billion and is set to clock $3 billion in gross sales by the end of the financial year in March.