Foreign Trade Policy pushes for $900 billion exports in FY20
 Mumbai: India has unveiled its much delayed Foreign Trade Policy that aims to nearly double exports by 2020 to $900 billion. Announcing the policy on Wednesday, commerce minister Nirmala Sitharaman set a target to grow the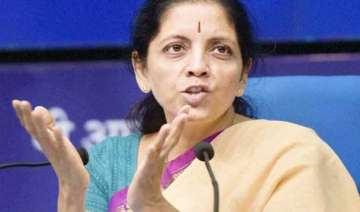 India TV Business Desk
April 02, 2015 14:05 IST
 Mumbai: India has unveiled its much delayed Foreign Trade Policy that aims to nearly double exports by 2020 to $900 billion.
 Announcing the policy on Wednesday, commerce minister Nirmala Sitharaman set a target to grow the country's exports of goods and services at a compounded annual rate of 11.5 per cent, a pace that will take its exports to $900 billion in FY20, nearly double the level in FY14. This could lead to India's share in world exports rising to 3.5 per cent, from around 2 per cent now, in FY20.
 The new policy is unveiled at a time when the exports are contracting and world trade is expected to grow 4 per cent in 2015, compared with 3.1 per cent in 2014.
 The simplified Foreign Trade Policy (FTP) for 2015-20 collapses five earlier schemes for promotion of merchandise goods into one single programme and revamps one for promotion of services. It focuses on reducing transaction costs for exports besides extending incentives to special economic zones (SEZs) and e-commerce.
 The FTP has extended interest subsidy scheme and other incentives for labour intensive sectors such as leather and handicrafts.
 The commerce minister said the new trade policy looks to boost exports, create jobs and supports 'Make In India' and 'Digital India' programmes.
 The FTP will focus on defence, pharma, environment-friendly products and value-added exports, Sitharaman added.
 While duty-credit scrips are made freely transferable, the exporters could also use them for paying customs duty, excise and service tax. In the new FTP, export obligations under the EPCG scheme have been reduced to 75 per cent from 90 per cent to encourage domestic manufacturing of capital goods and machinery.
 The government will continue incentives for units located in SEZs and promote e-commerce with focus on employment-creating sectors, Sitharaman said.
 Besides services sector, it would focus on standards and branding of products and also take care of World Trade Organisations's rule and free trade agreements of India.
 To encourage exports from special economic zones, the commerce ministry has extended the benefits of the two new reward schemes — Merchandise Exports from India Scheme (MEIS) and Services Exports From India Scheme (SEIS) — to units in those zones as well. MEIS — which subsumes five schemes including Focus Product, Focus Market and Market Linked Focus Product schemes — has no conditionality attached to the scrips issued under it. SEIS replaces the Served From India Scheme.
 The services sector contributes about 55 percent to the country's gross domestic product. During April-October period, services exports were worth $113.28 billion.
 The new FTP (2015-2020) would have a total of nine chapters including a separate one on services exports.
 As part of ease of doing business, the commerce ministry has reduced paper work for both exports and imports. It has also permitted online submission of documents to take Import-Export Code number, which is must for a trader.
 All exports and imports related activities are governed by the FTP. It mainly aims at enhancing the country's exports and use trade expansion as an effective instrument of economic growth and employment generation.
 On their part, exporters said simplification of schemes, acceptance of self-declaration by certain status-holders, online filing of applications and online inter-ministerial consultation were in line with the government's Digital India and Ease of Doing Business initiatives.
 The government is struggling to boost merchandise exports as India's outbound shipments in the last three years have been hovering at around $300 billion.
 India's exports in 2013-14 fall short of the $325 billion target and managed to reach $312.35 billion. The country's exports stood at $300.4 billion in 2012-13 and $307 billion in 2011-12.
 Falling for the straight third month, India's exports declined steeply by over 15 percent to $21.54 billion in February.