Gadkari seeks concessional financing for shipping sector
New Delhi: Union Transport Minister Nitin Gadkari has suggested banks to offer loans for ports and shipping projects at concessional rates."I have proposed to the Finance Ministry to talk to banks for more flexibility towards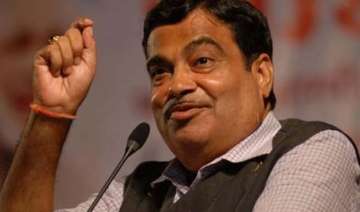 PTI
January 09, 2015 11:34 IST
New Delhi: Union Transport Minister Nitin Gadkari has suggested banks to offer loans for ports and shipping projects at concessional rates.
"I have proposed to the Finance Ministry to talk to banks for more flexibility towards shipping and ports sectors.
The Reserve Bank needs to provide directives to all leading banks to facilitate projects finance at concessional rates for ports and shipping projects," Gadkari told reporters on the sidelines of a Maritime Expo 2015 here today.
"I have suggested a five-year moratorium for loans on existing and new projects followed by a three-year grace period on interest payment and then a 25-year debt repayment tenure for shipping and ports projects," Gadkari said.
The minister said the country needs to increase GDP growth rate to 8.5 per cent, which slipped to 4.5 per cent and now at 5.5 per cent.
Stating that developing the shipping sector will be his top priority, Gadkari said the Narendra Modi government has taken a slew of steps to develop sea ports and water ports, and the industry should invest in developing inland waterways.
"The government has initiated steps to develop water ports and sea ports and is looking to build satellite dry ports for connecting the land-locked areas with the nearest sea ports," Gadkari said.
Noting that China moves nearly 44 per cent of its traffic through waterways, he said the same is a paltry 3 per cent in the country while passenger movement through waterways is a miniscule 0.3 per cent.
We have already taken a decision that we are going to increase the capacity of our ports," he said.
The 12 major ports of JNPT, Kandla, Marmugao, New Mangalore, Kochi, Chennai, Ennore, Visakhapatnam, Paradip, Kolkata (including Haldia) and VO Chidambarnar handle around 61 per cent of the country's cargo traffic. He said apart from augmenting ports capacity, his ministry has already taken a decision to build two dry ports - in Aurangabad and Vidarbha.
The government is also planning dry ports in Punjab, Haryana, Rajasthan and UP.
While asking the industry to invest in the development of inland waterways, the Minister said, "The country is yet to tap the potential of waterways despite the fact that this mode of transport is much more cost-effective compared to road and rail transport."
To reduce dependence on roads for cargo movement and to reduce costs, JNPT will be setting up satellite ports at Wardha, Aurangabad and Surat, Gadkari said.
Vidarbha and Aurangabad in Maharashtra will have dry ports from where the cargo will be moved by rail, while at Surat there will be a water port.
To encourage indigenous manufacturing of hovercraft, seaplanes and catamarans, Gadkari mooted the idea of joint ventures in which global companies can hold majority stake.