Gold price up by Rs 100
New Delhi, Apr 26:  Gold today hit a fresh over four months high by adding Rs 100 to Rs 29,340 per 10 grams on high seasonal buying support.However, silver remained weak for the third straight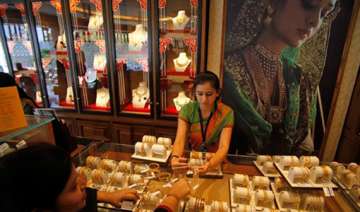 PTI
April 26, 2012 15:59 IST
New Delhi, Apr 26:
  Gold today hit a fresh over four months high by adding Rs 100 to Rs 29,340 per 10 grams on high seasonal buying support.
However, silver remained weak for the third straight day and lost Rs 200 to Rs 56,000 per kg on reduced offtake by industrial units and coin makers.
After climbing Rs 350 in last five trading sessions, gold advanced further on increased buying by stockists and jewellers to meet the ongoing marriage season demand amid a firming trend in global markets. The yellow metal had touched this level on December 10 last year.
The upsurge in gold was further bolstered as it advanced for a third day in global markets after Federal Reserve indicating plans to do more efforts to boost economic growth if necessary, weakening the dollar and raising appeal of the bullion as a store of value.
Gold in global markets, which normally sets the price trend on the domestic front, gained 0.3 per cent to USD 1,648.65 an ounce in Singapore.
Besides, investors shifting their funds from melting equities to rising gold also supported the the yellow metal to some extent.
On the domestic front, gold of 99.9 and 99.5 per cent purity advanced by Rs 100 each to Rs 29,340 and Rs 29,200 per 10 grams, respectively.
Sovereigns followed suit and gained Rs 50 to Rs 23,650 per piece of eight grams.  
On the other hand, silver remained under pressure and lost Rs 200 to Rs 56,000 per kg and weekly-based delivery by Rs 165 to Rs 55,345 per kg.
The white metal had lost Rs 375 in the previous two sessions.
Silver coins held steady at Rs 64,000 for buying and Rs 65,000 for selling of 100 pieces.