Gold Prices May Touch $ 2,000 An Ounce In 2012 : Study
New Delhi, Jan 8: Gold prices are likely to increase for the third consecutive year and would touch a record high of USD 2,000 an ounce in 2012, said a survey. According to the annual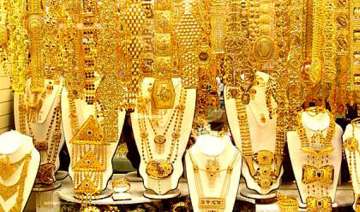 PTI
January 08, 2012 17:28 IST
New Delhi, Jan 8: Gold prices are likely to increase for the third consecutive year and would touch a record high of USD 2,000 an ounce in 2012, said a survey.

According to the annual London Bullion Market Association (LBMA) survey which covered 26 precious metal analysts, the average forecast for the precious metal for 2012 is USD 1,766 per ounce.

The average forecast for gold this year (USD 1,766 per ounce), a 12.34 per cent rise from average price in 2011 and a 10.2 per cent increase compared to the price in the first week of January, 2012.

Out of the 26 contributors to the survey, 19 expect gold to cross the USD 2,000 per ounce level in 2012.

Gold soared to an all time high in 2011 on strong demand as precious metals are considered as a 'safe-haven investment' in times of economic turmoil and rising inflation.

In India, gold (99.5 per cent purity) crossed the Rs 29,000 per 10 grams-level to a historic high of Rs 29,155 per 10 grams in December, 2011 (one ounce equals to 28.35 grams).

While analysts predict a jump in gold prices and expect it to hit record high levels, they are not so optimistic about other precious metals like silver, palladium and platinum.

"If we compare the average 2012 forecasts with actual average prices in 2011, we can see that analysts are less bullish about the prospects for precious metals (excluding gold) during the next 12 months," LBMA Commercial Director Ruth Crowell said.

Whilst analysts predict a rise in the price of gold (12.3 per cent) and price of palladium to remain broadly unchanged (0.3 per cent).

They are forecasting a fall in the price of both silver (-3.2 per cent) and platinum (-5.6 per cent).

Silver (.999 fineness) prices hit an all-time high of Rs 75,020 per kg on April 25, 2011, on heavy speculative and investment-driven buying in line with global markets, where the metal rose to a fresh 31-year high.

The LBMA is the international trade association that represents the wholesale over-the-counter market for gold and silver.

The aim of the LBMA Forecast survey is to predict the average, high and low price for each metal as accurately as possible.