Gold & silver imports dip $ 2.45 bn in June, lowest in 2013
New Delhi, Jul 12: Steps taken by the government to curb imports of yellow metal has yielded fruit with the imports of gold and silver dipping significantly to USD 2.45 billion in June, lowest during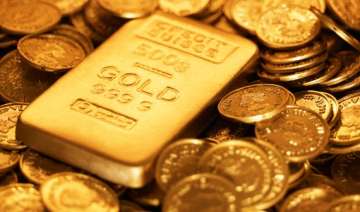 PTI
July 12, 2013 19:47 IST
New Delhi, Jul 12:
Steps taken by the government to curb imports of yellow metal has yielded fruit with the imports of gold and silver dipping significantly to USD 2.45 billion in June, lowest during the calender year.  
Due to the contraction in the imports, trade deficit has narrowed down to USD 12.2 billion in June. The deficit had widened to a seven-month high of USD 20.1 billion in May.  "The decline in gold and silver imports can be attributable to the steps taken by government, especially by the RBI. I think that might have translated into lower imports of gold," Director General of Foreign Trade (DGFT) Anup Pujari told reporters here.
Fall in trade gap would also help in bridging the widening current account deficit (CAD).  CAD has been estimated at 4.8 per cent of the GDP in 2012-13 as against the RBI's comfort level of 2.5 per cent.  High CAD puts pressure on the domestic currency and can expose the economy to balance of payments problems.  During January, February, March, April and May, the gold and silver imports stood at USD 7.4 billion, USD 5.7 billion, USD 3.3 billion, USD 7.5 billion and USD 8.4 billion respectively.
To curb demand, the government hiked the import duty on gold three times in a year and raised it recently by 2 per cent, to 8 per cent. Besides, RBI too has put restrictions on banks on importing gold.
Gold imports have plunged by over 80 per cent in June as government measures including a hike in customs duty tapered demand. The imports in June are said to have fallen to around 31 tonnes, down from 162 tonnes in May and 141 tonnes in April.
India is the largest importer of gold and the precious metal is mainly utilised to meet demand of the jewellery industry. The imports stood at around 830 tonne in 2012-13.