Gold spurts by Rs 565 on strong global cues, seasonal demand
New Delhi: Gold prices today soared by Rs 565 to trade at over two-month highs at Rs 27,885 per ten grams at the bullion market on brisk buying by jewellers and retailers to meet wedding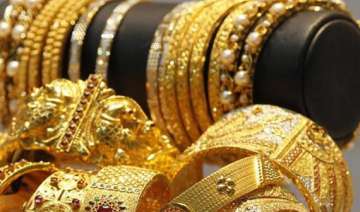 PTI
January 16, 2015 17:53 IST
New Delhi: Gold prices today soared by Rs 565 to trade at over two-month highs at Rs 27,885 per ten grams at the bullion market on brisk buying by jewellers and retailers to meet wedding season demand amidst a firming trends overseas.
Silver also rose sharply by Rs 620 to Rs 37,900 per kg on increased offtake by industrial units and coin makers.
Bullion traders said sentiment turned better after gold rallied to the highest since September in global markets as the dollar weakened after Switzerland decoupled its currency to the euro and lowered the deposit rate.
Gold in New York, which mostly set the price trend on the domestic front, jumped up by $33.50, or 2.73 per cent to $1,262.60 an ounce  and silver by 0.68 per cent to $16.96 an ounce in yesterday's trade.
In the national capital, gold of 99.9 and 99.5 per cent purity zoomed up by Rs 565 each to Rs 27,885 and Rs 27,685 per ten grams respectively, a level last seen on October 22.
Sovereign followed suit and edged up by Rs 50 to Rs 23,900 per piece of eight gram.
Following gold, silver ready recorded a sharp rise of Rs 620 to Rs 37,900 per kg and weekly-based delivery by Rs 540 to Rs 37,840 per kg.
Silver coins also flared up by Rs 1,000 to Rs 62,000 for buying and Rs 63,000 for selling of 100 pieces.