Google launches its flight search tool for India
New Delhi: Google has launched the flight search feature in India that allows users to find get best deals available for planning their vacation.Using google.co.in/flights, users can quickly find, compare and book flights from their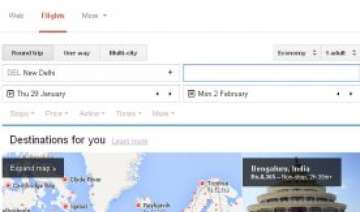 India TV News Desk
January 14, 2015 9:31 IST
New Delhi: Google has launched the flight search feature in India that allows users to find get best deals available for planning their vacation.
Using google.co.in/flights, users can quickly find, compare and book flights from their mobile phone, tablet or desktop.
The service has been available to other markets since its launch in the US in 2011.
Depending on your location, the Flight Search helps you look up airfare for various destinations on a map, and displays available flights, sortable by price, duration, number of stops and more.
It helps users to see the lowest fares in the calendar and the fluctuation in prices based on the season.
Selected flights can be booked through airline sites, third-party travel sites and agencies on the phone.